EZID Service Update: October 2013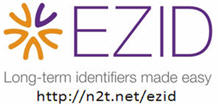 Recent Enhancements, News, and Activities
EZID's user interface (UI) was enhanced allowing submission of DataCite XML for the new version 3.0 required and recommended metadata elements. Submitting as much of the recommended metadata as possible is very important. Thomson Reuters will begin indexing DataCite content for exposure in their new Data Citation Index (part of the Web of Knowledge platform), but only for records that contain both the required and recommended metadata.
EZID clients have now created more than 1 million identifiers! In October, the overall total of ARKs grew to almost 700,000, and the total number of DOIs is above 470,000. As reported earlier, EZID is now the fastest growing DataCite allocation agency.
The DataCite summer meeting slides are now available here: http://www.datacite.org/node/99.
EZID Partners and Clients
Our current EZID clients include academic institutions, government agencies, non-profit organizations and commercial entities.
New this month:
Complete list:
EZID Service Description
EZID (easy-eye-dee) is a production service that gives researchers the ability to create and manage long-term identifiers so that they can to track usage, get credit for their work, share their data, and have the data reused for additional research. As a result, EZID identifiers also make it possible to increase citations, to build on previous work, to conduct new research, and avoid duplicating previous efforts.
EZID Service Manager
Joan Starr joan.starr@ucop.edu or uc3@ucop.edu.
EZID Training Materials, Guides, FAQs and Webinars
More information about EZID is available by sending an inquiry to uc3@ucop.edu. See also EZID outreach and webinars: http://n2t.net/ezid/home/outreach.
Service Monitoring and Availability
Since June 25, 2010, EZID has had an uptime performance of 99.9%. Check the CDL system status page at http://www.cdlib.org/contact/system.html.