Merritt Service Update: July-September 2013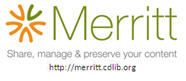 Recent Enhancements, News, and Activities
The migration of content in the legacy Digital Preservation Repository (DPR) to Merritt is complete. Over 80,000 objects in 89 collections from the DPR were successfully ingested into Merritt. It took many weeks of planning, preparation and testing, and more than 6 weeks to move all of the content. We've confirmed that all of the objects were successfully migrated. Most of the objects in the DPR were digitized as part of LSTA grant projects over the years, and we continue to monitor their validity as part of our commitment to preserve this valuable content. Having them in Merritt will make that job simpler. Many people in UC3 worked to make this possible, but special thanks go to Stephen Abrams for planning, David Loy and Mark Reyes for implementation, and Perry Willett for project tracking.
We are still working to shift our storage service to the SDSC Cloud Service. We are already using the SDSC Storage Cloud for the DPR migration described above. We've run into a few unexpected issues that we're working to resolve with SDSC but we believe can start using SDSC for all of our storage very soon. We will first start by sending all new submissions to SDSC, and then transfer the existing collections from the UCOP Data Center.
We're also in the process of changing the Inventory service. Inventory is Merritt's metadata catalog. The new Inventory should have better performance and be more stable, and should also allow us to expand Data Use Agreements and other functionality.
We've been working with a team at UCSF to create a new method for researchers to both submit datasets to Merritt, and discover datasets stored in Merritt. Look for more information in next month's report!
For a current summary of 2013 development priorities for 2013, see the UC3 Curation Wiki: http://bit.ly/16O0hGK.
Merritt Service Description
Merritt is a production level service that provides the UC community with an easy to use tool to manage, archive, and share their content. Content can be deposited and managed via a user-interface or an API.
Merritt Service Managers
Please send any questions or general correspondence to uc3@ucop.edu.
Merritt Training Materials, Guides, FAQs and Webinars
More information about Merritt is available at http://www.cdlib.org/services/uc3/merritt or by sending an inquiry to uc3@ucop.edu.
Service Monitoring and Availability
Check CDL's system status page at http://www.cdlib.org/contact/system.html.