10,000,000 HathiTrust Records Now Have Clear Labels in Melvyl
In response to user feedback from the UC community, OCLC has relabeled more than 10,000,000 Melvyl (WorldCat Local) records making it easy to distinguish if a digitized work in HathiTrust is available in full text or for limited viewing only.
Limited View
Those books not in the public domain, around 7,000,000, are now labeled HathiTrust Digital Library Limited view (search only). See the following example:
With this message, users know that the full text is not accessible, but that the text is available for searching for words or phrases.
Finding full text materials
Users determine if any of the 3,000,000 HathiTrust books in the public domain are available in full text by the presence of the "View Now" link on the results screen.

Clicking the "View Now" link displays the link to the full text of the item. For public domain works in HathiTrust, a new label displays on the results and item level screens: HathiTrust Digital Library Full View.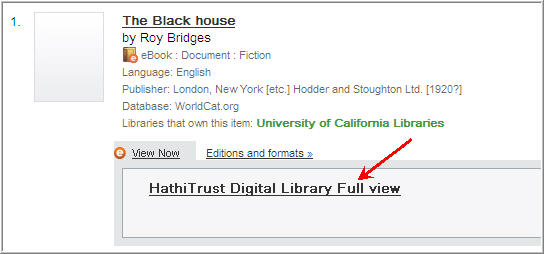 From the results screen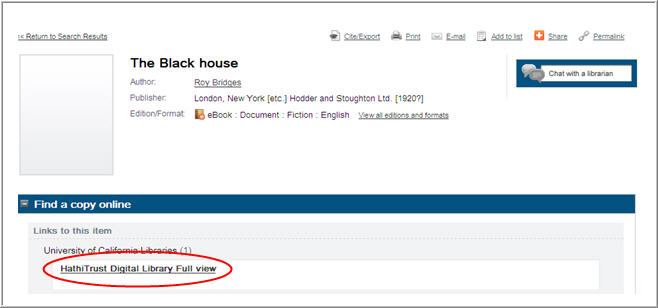 From the item record screen
Another easy way to find public domain works is by conducting a keyword search such as "cookery" and using the facets to limit to ebooks, and the year 1902 (or a year prior to 1923).
OCLC is now working on a process to find and relabel the records that are added each month.
Thanks for your persistence
Thanks to the pressure and persistence of many UC public services staff, faculty and students, the UC University Librarians, and in particular, Kathryn Stine, Alison Ray, Lynne Cameron, Lena Zentall and Patti Martin at CDL and Jeff Penka and Bill Carney at OCLC.