WAS Service Update: February 2013

Recent Enhancements, News, and Activities
WAS 2.0 Release. Work continues on the release.
SJSU Intern. Caitlin O'Neal López has joined our team, virtually, as an intern from San Jose State University School of Library and Information Science. (Caitlin currently lives in Seoul, South Korea.) Caitlin will be working on developing new WAS tutorial videos. To help us prioritize which videos to do first, Caitlin sent a survey to current WAS subscribers. The top 5 subject areas indentified were: Analyze Capture Results; Export XML; Duplicate Reduction; Archive your domain or a large website, and Rights Management. We have many other topics on our list and will take them on as we can.
WAS Outreach Materials. We created a new 4×6 postcard (see image). If you would like us to mail some to you for an event or meeting, please contact Rosalie Lack at rosalie.lack@ucop.edu.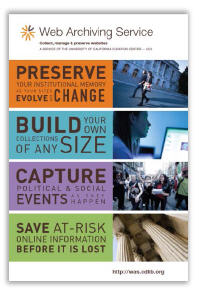 New WAS Institution. Read the announcement of our newest
WAS subscriber – Mount Holyoke College.
http://cdlib.org/2013/03/03/mount-holyoke-college-signs-up-for-was/
Network Outage. On Thursday February 28 at 1:29 PM (PT), there was a general UCOP (UC Office of the President) network outage which impacted connectivity for CDL operations and services including the DMPTool. At 2:33 PM, we received word from the UCOP systems office that the UCOP network was coming back online. A second interruption occurred around 3 PM, although that outage was resolved within a few minutes. This outage did not have any effect on existing crawls. Since the crawler, Heritrix, is quite robust at dealing with sites that are unavailable, it would have paused at the time of the outage and picked back up once connectivity was reestablished. Please contact us at washelp@ucop.edu with any questions or concerns about this network outage.
New public content: University of California Office of the President (UCOP) site

UCOP archived the ucop.edu domain prior to redesigning the site; new site launched November 2012. Available here: http://webarchives.cdlib.org/a/ucoppre2012.
WAS Activity, February 2013
100 archives actively collected
1753 sites collected
1.4 TB of data collected
WAS Service Description
The Web Archiving Service (WAS) enables librarians, archivists and researchers to capture, curate and preserve websites and web‐published materials. WAS makes it easy to build web archives, with scheduling and other tools to help manage your archive. You control public access to your archives and can configure the appearance and navigation of each archive. We also provide collection development consultation and help desk support for web archiving questions.
WAS Service Manager
Rosalie Lack, rosalie.lack@ucop.edu or washelp@ucop.edu.
WAS Training Materials, Guides, FAQs and Webinars
WAS training materials and guides are available here: (http://webarchives.cdlib.org/p/curators).
Service Monitoring and Availability
Check CDL's system status page at http://www.cdlib.org/contact/system.html.