The Broad Value of Web Archives: Researcher Findings
On April 30 2012, the International Internet Preservation Consortium hosted a day-long session on "The Broad Value of Web Archives: General Use" (http://netpreserve.org/events/2012ga.php).   Speakers at this event focused on the use and analysis of web-archived materials, and provided a glimpse into how researchers may want to use the archives that WAS curators are building.  The sessions also highlighted how researchers would benefit from direct access to archiving tools to create their own data sets.  Slides from this session are now available at the event web site.  Video interviews with many of the presenters were conducted, and we will of course post links to those videos when they're available.
I'd like to focus a couple of upcoming blog posts on some of the most thought-provoking moments in the IIPC presentations.  University of Illinois at Urbana-Champaign research Kalev Leetaru shared findings from many years of analysis of blogs, online newspapers and government web content.  This post focuses on just one of the findings he shared of an analysis of White House press releases as distributed to the web from March to June 2003, at the advent of the Iraq War.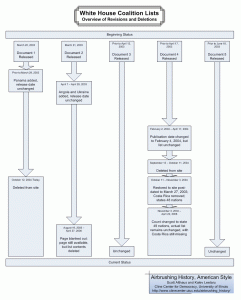 Certainly web archivists are keenly aware of the value of preserving at-risk government publications at the Federal, State and local levels.  We're aware that these may be moved or entirely deleted as organizations and administrations change.  Also at issue, though, is that documents that were immutable in print are not so on the web.  The 2008 study "Airbrushing History, American Style"  (http://www.clinecenter.illinois.edu/research/airbrushing_history/)  traces the changes to the March 27, 2003 White House press release listing the "Coalition of the Willing".  Rather than issue subsequent press releases as nations joined and left the coalition, the original press release was updated, with the original date of the press release left in place.
Overall, the range of presentations surfaced both anticipated and unexpected values of web archives for researchers.  Future postings will explore some of the other issues raised, particularly as researcher interviews are made available.