RecordEXPRESS makes it easier to contribute collection guides to the OAC
CDL is pleased to announce the release of a new tool called RecordEXPRESS, which is designed to make it even easier for Online Archive of California (OAC) contributors to describe collections and contribute records to the OAC.
RecordEXPRESS is a simple web form contributors can use to create a single-level, minimum collection record and immediately publish it on the OAC. Specifically, the utility enables contributors to:
Quickly fill in a handful of fields to create a collection guide that is compliant with Describing Archives: a Content Standard (DACS, the national standard for archival description).
Immediately preview and directly publish the guide to the OAC with the push of a button.
Attach one or more PDF documents to the guide. This may be handy in cases where contributors have detailed listings or inventories of materials in the collection, or a legacy finding aid that has not been encoded in EAD. These PDFs will soon be fully integrated with and searchable in the OAC.
Obtain an Encoded Archival Description (EAD)-formatted export of the guide, for local use.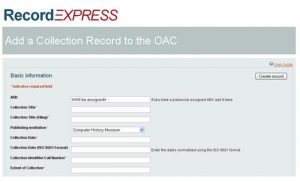 RecordEXPRESS was designed for institutions that either do not have the means or resources to easily create EAD- or MARC21-based collection guides, or may have legacy finding aids that are not worth converting into EAD at this time. With this and other services, the CDL is hoping to support institutions with "more product, less process"-based approaches to expose archival and special collections materials that would otherwise be hidden.
View an example of an OAC collection guide created with RecordEXPRESS.
Development of this tool was supported by The Andrew W. Mellon Foundation, administered by the Council on Library and Information Resources as part of its Cataloging Hidden Special Collections and Archives Program.