Web Archiving Service Welcomes Emory University Libraries
CDL Welcomes Emory University Libraries as the newest Web Archiving Service (http://was.cdlib.org/) partner!  Kate Donovan Jarvis, Emory's University Archivist and Erika Farr, Coordinator for Digital Archives will be using the service to archive the University's websites.  They will also use the service to archive materials relevant to the Emory Libraries' Manuscript Collections, such as blog posts and author-created websites.   This will represent a new and innovative use of the service to enhance existing collections. We look forward to working with Emory, a leader in digital preservation and one of the first recipients of a National Digital Information and Infrastructure Preservation Program grant.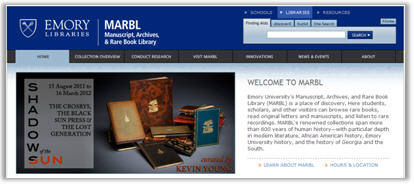 The Web Archiving Service (WAS) enables libraries and archives to build collections of archived websites.  For further information about WAS, visit (http://was.cdlib.org) or contact washelp@ucop.edu.