Recently Released: University of Michigan Web Archive
Web Archiving Service (http://was.cdlib.org/) partners at the Bentley Historical Library of the University of Michigan have made their comprehensive archive of university websites available to the public.  The University of Michigan Web Archive (http://webarchives.cdlib.org/a/universityofmichigan) contains 490 archived sites from the umich.edu domain, with hundreds more archived sites forthcoming over the next few months.
The archive contains websites for academic departments, student organizations and the University administration as well as affiliated research centers and faculty projects.  The archive can be browsed by topics such as "School of Education" or "Administration" (sample screen below).
Congratulations to Nancy Deromedi and Michael Shallcross, the curators whose research and analysis made this archive so impressive.
The archive is available at: (http://webarchives.cdlib.org/universityofmichigan)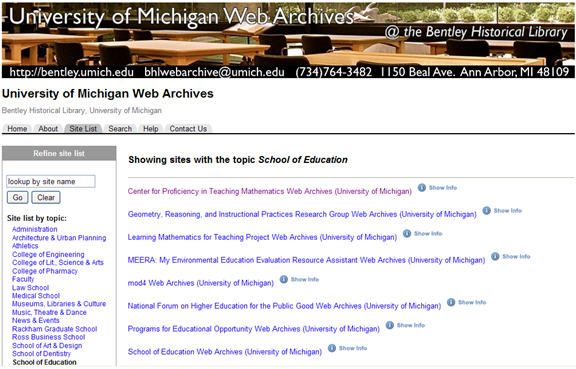 If you have any questions about the Web Archiving Service, contact washelp@ucop.edu.
For further information, demonstrations of the service and forthcoming features will take place in April.