CDL On-the-Go
The CDL website has gone mobile.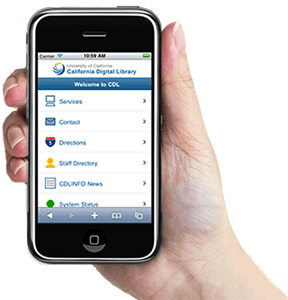 Since the launch of our new web presence in January, 2010, the User Experience Design team has continued our commitment to finding new and timely ways to serve our users' needs. In the summer of 2010, we embarked on a mobile user research project that culminated in our creation of a new mobile version of CDL's website. We want to support our users whether they are at their desks or on the go in a mobile context.
We have enabled an auto-detect feature to recognize when certain mobile devices are trying to access the CDL website; the auto-detect automatically sends users to the mobile site. We're providing quick hits of information geared specifically for mobile use– things like contact info, directions, system status, CDLINFO news.
Learn more about the process we used to arrive at this first iteration of the mobile site.
We hope to continue to grow and develop our site by monitoring use patterns, incorporating more features and content as needed. So stay tuned and visit us (http://www.cdlib.org) when you're on the go…