CDL Archiving Deepwater Horizon Oil Spill Websites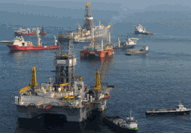 The California Digital Library is using the Web Archiving Service to archive sites related to the gulf oil spill.  While CDL's primary role in Web archiving is to provide tools and support to collection specialists, we also use the service ourselves.  This helps us continue to develop efficiencies in the service and  keeps us keenly aware of the curator's perspective!  It also enables us to provide public archives of major events.  Event-based archives can be a particular challenge; they are reflected in a wide range of fields and they unfold quickly so there is no ready-made list of relevant sites.  The Deepwater Horizon spill involves environment, oceanography, business, government agencies, and sites local to the gulf coast.
Update: June 4, 2010

There are now over 200 sites included in the archive; most are archived on a daily or weekly basis.  You can help build the archive!  As the scope of this disaster unfolds, many more websites reflect its impact on the environment, the gulf region, local businesses and political debate.  The University of North Texas Libraries have contributed their Web Archive Nomination Tool for this project, so that a wider range of subject specialists and the general public can nominate sites to be included in the archive.  No account is needed, though you will be asked to provide contact information.
You can search or browse the nomination tool by URL and you can review an RSS feed of the existing nominations.   To nominate a site, click "Add a URL" in the top right banner of the nomination tool.   Please note that site owners can configure their servers to prohibit Web crawler traffic, so not every nominated site can be included in the archive.
(Photo found via the Deepwater Horizon Response Flickr site, U.S. Coast Guard photo by Petty Officer 3rd Class Ann Marie Gorden.)
Project Background
Our starting point for this event was the site list for the Hurricane Katrina archive.  In 2005, CDL worked with the Stanford Computer Science department to document Katrina as it unfolded.  We wondered if that site list might serve as a basis for the current tragedy unfolding in the gulf, or if there might be a list of core sites one could draw from as a starting point for major events.
After identifying the still-relevant sites, we added (and are still adding) sites focused specifically on the Deepwater Horizon event.  We are working with subject experts to continue building the site list for this archive.
We will emerge from this project with an archive documenting the event, new ideas about how to make the tools more efficient, and some observations about both the nature of this event as reflected on the Web, and whether there can be a useful set of 'starting point' sites.  We will make an announcement when the archive is available to the public, and will post observations about this project on the WAS Facebook Page.