Web Archiving Service: Revised Site
On Thursday January 21, the California Digital Library launched a redesigned Web Archiving Service home page: http://was.cdlib.org.  The new design integrates information about both web archives and curatorial tools, so that people visiting the site can easily get information about either building or searching web archives.  The goal for this redesign is to provide clear information for the range of different people visiting the site, from longstanding curators to researchers to potential future partners.
Some important features of the new site:
WAS News announcements will be delivered via a blog allowing for easier, more frequent news updates and will allow you to share your comments.
Mouse-over any archive name in the list to view details including the number of sites and an archive description.
All training materials, collection development and rights management support documents are available from the "Information for curators" page.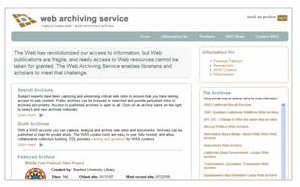 There is also a new feature available to those with Web Archiving Service accounts.  If you've published an archive, you can now get a code snippet to insert a search box for your archive in your own web site.  The public access configuration page for your archive will display the markup you can copy and paste to create an archive search box.
The new Web Archiving Service site coincides with the release of a revitalized California Digital Library website.  For questions about the Web Archiving Service, contact washelp@ucop.edu or visit http://was.cdlib.org