New Licensed Resource – Materials Science & Engineering Database
All UC campuses now have access to ProQuest's Materials Science & Engineering Database, based on UC's standalone subscription to Earthquake Engineering Abstracts.
http://uclibs.org/PID/300988                     (All campuses; on the ProQuest platform)
The Materials Science & Engineering Database is an interdisciplinary resource combining full-text sources and expert indexing of global literature, this database offers its users the tools and the content to stay current of the latest research in the field, perform comprehensive literature reviews, or develop strong baseline knowledge for new researchers.
Featuring content from 1962 to present, the database supports materials science research, covering topics such as metals, polymers, ceramics, composites, and biomaterials and dealing with areas such as corrosion, molding and casting, treatment, recycling, testing, finishing, welding, and forming. To support engineering research, the database provides easy access to millions of bibliographic abstracts for the widest and deepest coverage of new technologies and engineering research, including civil, mechanical, environmental, earthquake, mechanical, and transportation. Sources go beyond scholarly journals to include grey literature including patents, conference proceedings, government reports, and more to provide the researcher with the widest awareness and discovery of developments in the field.
This database can be cross-searched with any/all databases on the ProQuest platform.  UC-eLinks have been enabled for this resource.  SCP has updated catalog records and has distributed these to the campuses.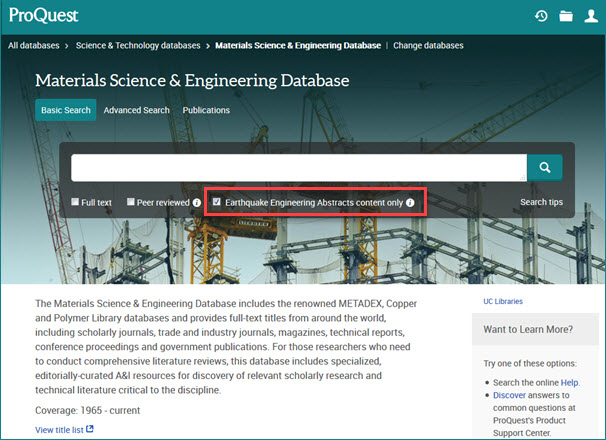 Earthquake Engineering Abstracts (EEA) continues to be available both as a standalone database (http://uclibs.org/PID/1517, see above) as well as its content available from within the larger MS&E database.
Bob Heyer-Gray (UCD) is the Resource Liaison for the MS&E database, as well as for the EEA database.