A New Look for All Journals on Scitation
All American Institute of Physics Publishing (AIP) journals and Member Society publications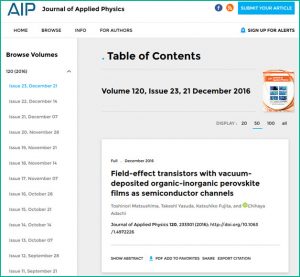 transitioned in December 2016 to a newly redesigned Scitation platform. Member Societies include:
AVS (American Vacuum Society)
Acoustical Society of America
American Association of Physics Teachers
American Crystallographic Association
Laser Institute of America
CPS (Chinese Physical Society)
Society of Rheology
According to the AIP Scitation FAQ (http://newscitation.aip.org/), improvements on the new platform include:
Faster navigation to the articles and research you're searching for, plus editors' recommendations to help you find similar content wherever it appears in AIP Publishing titles
Redesigned pages to reduce distractions and make articles easier to read
An enhanced figure viewer to help you explore visual content
A simpler address – Scitation.org – for all our content, and more reliable access and improved readability across the spectrum of mobile devices and browsers
Dedicated collaboration tools to simplify sharing information with colleagues and social networks
More efficient, standardized library administration, including account management and usage reporting
Links to all licensed publications are re-directing to the new platform. Campus proxy administrators have been notified of changes to proxy configuration.
The Scitation platform can be found at http://www.scitation.org/.
Andrea Duda (UCSB) is the Resource Liaison for the American Institute of Physics (AIP) publications.