New Licensed Resource: Oxford Handbooks Online (OHO) — Literature
All UC campuses now have access to Oxford Handbooks Online (OHO) — Literature.
Note: Some campuses may have already had access via local subscriptions.
http://uclibs.org/PID/276064; All campuses, on the Oxford Handbooks platform.
Oxford Handbooks Online (OHO), the home of scholarly research reviews, is an outstanding collection of the best Handbooks in 14 subject areas. The collection of Oxford Handbooks is one of the most prestigious and successful strands of Oxford's scholarly publishing, containing in-depth, high-level articles by scholars at the top of their field.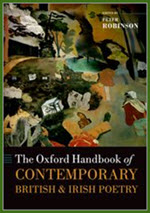 The literature section of OHO will include essays on most aspects of poetry, prose, verse, and drama in English, and will also include work on Film Studies. Its chronological range extends from around 1300 to the present day. Its principal focus is on writing produced in the British Isles and North America, but it will include a growing body of work relating to literature from other English-speaking regions of the world. Essays represent a variety of critical approaches (historical, formalist, theoretical), and seek to combine original scholarship with authoritative introductions to their topic. These are not simply guides to existing research but exemplary essays which explore new avenues for future work. The present scope of the collection reflects the range of the printed Oxford Handbooks, which offer particularly strong coverage of Shakespeare, early modern (1500-1700), modern, and American topics. As the resource grows this coverage will be supplemented in ways will produce a comprehensive and reliable guide to all areas of writing in English from the earlier Middle Ages to the present day.
The purchased resource includes 5 annual collections: Literature Foundation collection, 2012, 2013, 2014, and 2015 collections; in total, the collections contain 1,629 articles. View the complete OHO Title List [Excel], then sort Column C for Literature.
CDL fully funded this resource for all campuses on behalf of the English and American Literature bib group which ranked it as their top priority.