Overview
WEST is a distributed journal archiving program founded in 2010 and hosted by the California Digital Library at the University of California.
Quick Facts
65 academic and research libraries west of the Mississippi

Archives located in 18 states

67,000 assignable square feet / 2,000 seats for users

Partnerships with regional and national shared print initiatives
Archived Collections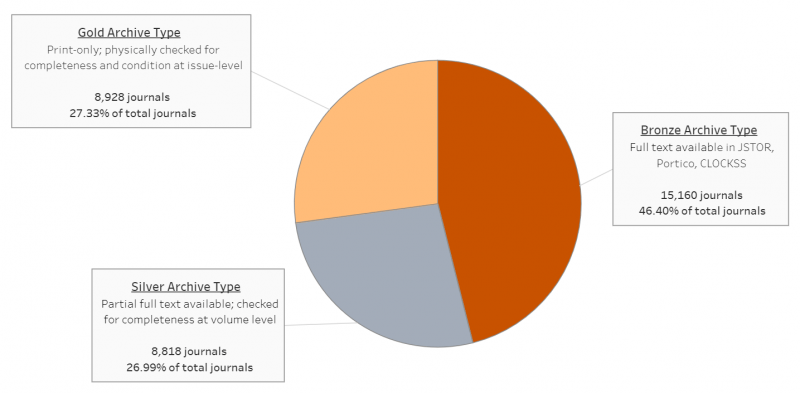 This chart shows the number of journals by WEST Archive Type, and the percentage of the total collection they represent. The Bronze Archive Type includes 15,160 journals (46.40% of the total collection), the Silver Archive Type includes 8,818 journals (26.99% of the total), and the Gold Archive Type includes 8,298 journals (27.33% of the total).
Archived Collections by LC Classification

The chart shows the Library of Congress classification breakdown for the WEST archived collections. The chart's underlying data is also available.
WEST Archives
Downloading Data for Map
If you would like to download the data for the above map, make sure you have clicked on the map dashboard.
At the bottom of the dashboard, click Download.
Select one of the following options:
Data: Opens a new tab in the browser window and displays the view's data in summary. You can then download the data as a comma-separated value (.csv) file.
Crosstab: Downloads the view, or the selected sheet in a dashboard, as a .csv file you can open in Microsoft Excel.
If those options are grayed out, make sure to click on a table or graph in the dashboard first.
Future Milestones
| Dates | Milestones |
| --- | --- |
| Fall 2020-Spring 2021 | Cycle 10 archiving! For Bronze, this is metadata work. For Silver and Gold this is physical validation and calling for holdings to fill in archived journal families. |
| Fall 2020 – Spring 2021 | Participating institutions disclose Cycle 10 archived titles |
| Summer 2021 | Institutions receive collection comparison reports |
| Summer 2021 – Spring 2022 | Cycle 11 archiving! |
| Spring 2022 | Participating institutions disclose Cycle 11 archived titles |
| Summer 2022 | Institutions receive collection comparison reports |
| Summer 2022 – Fall 2022 | Participating institutions record their Cycles 12/13 commitments in AGUA |
| Fall 2022 – Spring 2023 | Cycle 12 archiving! |