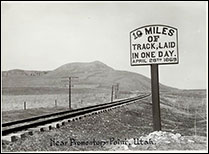 WEST is a collaborative and sustainable journal archiving program that will transform the manner in which legacy print journal collections are housed and managed.
In 2009-2010, research libraries, college and university libraries, and library consortia in the western region of the United States joined together, with support from the Andrew W. Mellon Foundation, to plan for a shared print archiving program known as the "Western Regional Storage Trust".  The goals established for WEST were to:
Preserve and provide access to the scholarly print record
Facilitate space reclamation in WEST libraries and storage facilities
The twenty-two WEST planning partners developed an operating and business model including:
selection priorities and validation standards based on risk management principles
agreements governing retention, holdings disclosure, and access
a business plan that includes governance and cost-sharing proposals.
In December 2010, the Mellon Foundation awarded a three year grant to the University of California Libraries to support implementation of WEST. More than 60 additional academic libraries expressed intention to join the program as it moved into implementation. During the initial three-year project (2011-2013), WEST partners will establish the administrative and operational infrastructure to support the distributed journal archive. Selected WEST Archive Builders will actively ingest and validate approximately 150,000 volumes from 8,000 journal runs (current and past titles), to allow recovery of the space occupied by potentially millions of corresponding volumes now held in partner libraries. WEST archiving libraries agree to maintain WEST archives for a period of 25 years (through 2035), with a review of the agreement every 5 years. WEST plans to submit a subsequent proposal for funding to support an additional two year archiving project in 2014-2015 (Phase 2).
The outcome of the WEST project will be a robust framework developed and adopted by a variety of regional partners to support a long-term, distributed print repository. The program will preserve the scholarly record through a coordinated system of persistent archives and will make visible those archives and retention commitments at the national/international level.