Günter Waibel Staff Profile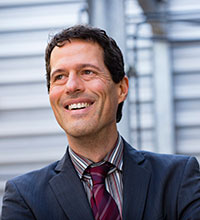 Program / Service
California Digital Library
Job Title
Associate Vice Provost & Executive Director
Responsibilities
As Associate Vice Provost and Executive Director, Waibel manages one of the world's largest digital research libraries. The CDL was founded by the University of California in 1997 to radically reconceive the way scholarly information resources might be published, archived, and accessed in the context of rapidly emerging technologies. The CDL fulfills its mission to support UC libraries and scholars by building world-class digital collections and providing more than 20 innovative and award-winning services, from a system-wide library catalog to tools for managing data and an open access platform for publishing faculty research. In collaboration with the UC libraries and other partners, the CDL continues to innovate in areas of collection management, discovery services, digital curation and scholarly publishing, transforming the ways that UC faculty, students, and researchers create, discover and access scholarly information. The CDL has an annual budget of $23.4 million and a staff of more than 70 library leaders, technologists and information managers. Collaborating with stakeholders across the UC system, Waibel is advancing efforts to build and support new models of scholarly communication; provide leadership, strategic planning, management and decision making for the CDL; and foster strategic partnerships at the state, national, and international levels.
Education
Master of Arts, English Literature, Georgetown University
Background
Waibel comes to the CDL with extensive experience in the digital library and broader cultural heritage communities and is well-known for his work in promoting cross-domain collaboration. In his previous position as the Director of the Digitization Program Office at the Smithsonian Institution, Waibel oversaw the strategic plan for creating a digital Smithsonian out of the institution's 19 museums and 9 research centers. He was a finalist for the 2014 Samuel J Heyman Service to America Medal, and his office has won three Smithsonian Secretary's Awards in the last three years: for digital innovation, for collaborative spirit and for scientific research. In 2014, Waibel led the team which created the first 3D printed portrait of a sitting head-of-state through a sophisticated 3D capture of President Barack Obama. Prior to coming to the Smithsonian, Waibel promoted network-based solutions on behalf of an international collaborative of 140 research libraries as Program Officer for the Research Libraries Group and the OCLC Research Library Partnership. Waibel has an MA in English Literature from Georgetown University and taught in the digital library certificate program for Syracuse University's iSchool from 2003 to 2008.
LinkedIn Profile
http://www.linkedin.com/in/waibel