Martin Haye Staff Profile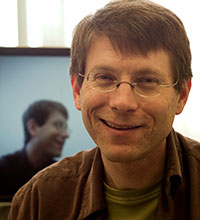 Program / Service
Publishing and Special Collections
Job Title
Senior Developer
Responsibilities
Martin architects and implements eScholarship back-end systems, in addition to being the main developer behind the XTF open source search and display framework in use at CDL and at other institutions worldwide.
Education
B.S. Computer Science, University of California, Berkeley
Background
Martin began work for CDL in 2002 as a contractor, developing eScholarship Editions and XTF in tandem. In 2007 he moved into a staff position in the Publishing Group which he still enjoys today. Previously he worked at a number of prominent Silicon Valley companies.
Professional Interests
Search ranking, Unicode and PDF intricacies, algorithms of all sorts, dirt-simple systems