Martin Haye Staff Profile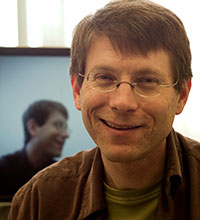 Program / Service
Infrastructure and Applications Support
Job Title
Systems Architect
Responsibilities
Martin architects and implements CDL front- and back-end systems.
Education
B.S. Computer Science, University of California, Berkeley
Background
Martin began work for CDL in 2002 as a contractor, developing eScholarship Editions and XTF in tandem. In 2007 he moved into a staff position in the Publishing Group. In 2020, he transitioned to a systems architect role in CDL's Infrastructure and Applications Group. Previously he worked at a number of prominent Silicon Valley companies.
Professional Interests
Programming languages, algorithms of all sorts, dirt-simple systems
ORCID ID
https://orcid.org/0000-0003-3633-5526