Catherine Mitchell Staff Profile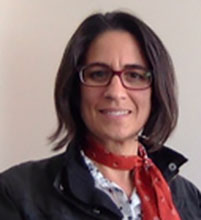 Program / Service
Publishing, Archives, and Digitization
Job Title
Director of Publishing, Archives, and Digitization
Responsibilities
As the Director of Publishing & Special Collections at the California Digital Library, Catherine Mitchell is responsible for overseeing the strategic planning, development, and operational management of CDL's Publishing & Special Collections program, which develops and maintains production services that enable robust access to unique digital assets from the University of California (UC) and beyond. Through the development of advanced technologies and creative partnerships, this program provides the UC scholarly community with innovative open access publication and distribution solutions and aggregates world-class digital collections from libraries, archives, and museums throughout the State of California, in both cases serving an array of end users including researchers, scholars, students, and the general public. Services include eScholarship (UC's Open Access IR/Publishing platform, with 80+ journals) and Calisphere (a gateway to over one million digitized historical images, texts and recordings). Catherine is also Operations Director of UC's Office of Scholarly Communication.
Education
Ph.D., English Literature, UC Berkeley
A.B., English Literature, University of Chicago
Background
Catherine joined the CDL in 2006 as Manager of Publishing Services. Prior to that, she worked as Web Director at the Commonwealth Club in San Francisco, overseeing the creation of, among other things, a curated digital archive of significant public affairs speeches delivered at the club over the past 100 years. Her experience in scholarly publishing includes time spent on the other side of the academic house as a scholar of nineteenth-century British literature. Prior to becoming Director of Access and Publishing in 2011, Catherine served as Director of the Publishing Group, 2007-2011.
Committees / Affiliations
Crossref, Board Member
Library Publishing Coalition (LPC), Board Member
University of California Office of Scholarly Communication, Operations Director
University of California Committee on Library and Scholarly Communication (UCOLASC), Consultant
ORCID ID
http://orcid.org/0000-0003-4033-5684
LinkedIn Profile
http://www.linkedin.com/pub/catherine-mitchell/9/232/414