Brian Riley Staff Profile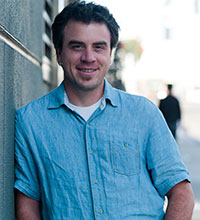 Program / Service
UC Curation Center (UC3)
Job Title
Application Programmer IV
Responsibilities
Brian is the primary programmer for the PURL/PID Service and is involved in the development and maintenance of the other services provided by the discovery and delivery team.
Education
B.A. General Studies – University of Connecticut
M.A. American Studies – Trinity College
Background
Brian started his career as a graphic designer but quickly and eagerly transitioned over to the world of programming when he was introduced to HTML and web design. He has since gone on to develop and work on large enterprise systems. Brian was exposed to the nuances and idiosyncrasies of the library world while pursuing his M.A. in American Studies. His background in programming and his experience doing graduate level research brought him to the CDL with a desire to improve research workflows and make library resources more easily accessible.
Professional Interests
Exploring new technologies and programming languages, system integration and APIs, and open source projects