Barbara Hui Staff Profile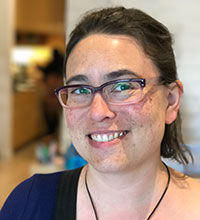 Program / Service
Publishing, Archives, and Digitization
Job Title
Software Developer
Responsibilities
Barbara is a backend software developer for the PAD team. She currently works on Calisphere and other digital special collections services that CDL provides but has also previously worked on publishing services.
Education
PhD, Comparative Literature, UCLA
BA, Comparative Literature, UC Berkeley
Background
Barbara has a background in both literature and software development and enjoys working at the CDL on technically challenging projects whose purpose is to make knowledge freely accessible to both the UC community and the broader public.
Professional Interests
Digital Humanities
Open Source development and community
Maps and GIS
Committees / Affiliations
Member, LibTech Committee, Open Library of the Humanities
Chair, Technical Committee, Public Knowledge Project
ORCID ID
https://orcid.org/0000-0002-1931-2288
LinkedIn Profile
http://www.linkedin.com/in/barbarahui/