Lisa Schiff Staff Profile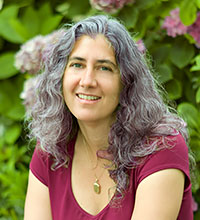 Program / Service
Publishing, Archives, and Digitization
Job Title
Associate Director of Publishing, Archives, and Digitization
Responsibilities
As the Associate Director of the Publishing, Archives, and Digitization group at the California Digital Library, Lisa Schiff is responsible for guiding the strategic planning, development, and operations of production systems and services focused on supporting the publishing, research, and learning activities of the University of California academic community. These services include: eScholarship, the UC system's open access publishing platform and institutional repository (with nearly 90 scholarly journals); Calisphere (an open gateway to over one million digitized historical images, texts and recordings), and the Google Books/HathiTrust projects.
Education
Ph.D., Library and Information Studies, UC Berkeley
M.L.I.S., UC Berkeley
A.B., Political Science major, French/Economics minor, Bryn Mawr College
Background
Lisa Schiff is the Associate Director for the California Digital Library's Publishing, Archives, and Digitization group. Previous to joining the CDL, she was an Information Engineer at Interwoven. She received her Ph.D. in Library and Information Studies from the University of California, Berkeley, and is the author of Informed Consent: Information Production and Ideology, published by Scarecrow Press.
Professional Interests
Open access to information
Library publishing
Institutional repositories
Racial/social justice in libraries and in society
Metadata
Controlled vocabularies
The social nature of information
Intellectual authority
Information equity
Information systems design
User experience
Committees / Affiliations
Crossref, Board Member, March 2022-March 2025
Directory of Open Access Journals, Advisory Board Member, June 2019-present 
Digital Library Federation (DLF) Committee on Equity and Inclusion, Co-Admin, April 2021-present
Gallery, Library, Archive, and Museum Diversity subgroup of the DLF Committee on Equity and Inclusion, Vice-Chair, April 2021-present
NISO Information Creation & Curation Topic Committee, member, February 2023
ORCID ID
http://orcid.org/0000-0002-3572-2981
LinkedIn Profile
http://www.linkedin.com/in/lisaschiff