Katie Fortney Staff Profile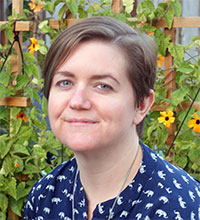 Program / Service
Publishing, Archives, and Digitization
Job Title
Copyright Policy & Education Officer
Responsibilities
Katie provides the UC campus libraries and their communities with educational resources and policy guidance on copyright and rights-management issues, particularly those related to the CDL's scholarly research and publishing services via eScholarship and special collections access platforms like Calisphere and OAC. She supports the UC Open Access Policies through her work as part of the Office of Scholarly Communication, and maintains the UC Copyright website as part of her role on the Standing Subcommittee for Copyright Policy of SLASIAC.
Education
M.L.I.S., San Jose State University
J.D., New York University
B.S., English literature, Iowa State University
Background
Prior to joining CDL in 2013, Katie was an instruction librarian and a scholarly communication librarian at UC Santa Cruz, where she also worked on copyright issues relating the the Grateful Dead Archive Online project. Before becoming a librarian, she worked as an associate at Gibson, Dunn & Crutcher in Palo Alto.
Committees / Affiliations
UC SLASIAC Standing Subcommittee on Copyright Policy
UC Scholarly Communication Common Knowledge Group
University Information Policy Officers
Intellectual Property Section, California Lawyers Association
ORCID ID
http://orcid.org/0000-0002-3582-0872
LinkedIn Profile
http://www.linkedin.com/in/katiefortney