Kathryn Stine Staff Profile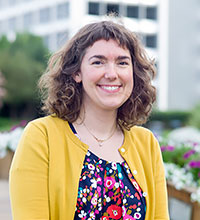 Program / Service
Collection Development & Management, Publishing, Archives, and Digitization
Job Title
Manager, Digital Content Development and Strategy
Responsibilities
Kathryn is responsible for defining, leading, and implementing a variety of digital collection development and web archiving projects on behalf of the CDL, including developing and implementing a communications and outreach plan for the Cobweb web archiving collection development platform (a collaborative effort of CDL, UCLA, and Harvard University with funding from the Institute of Museum and Library Services), working with a collaborative, cross-CDL team in pursuing collection strategies and approaches for large scale digitization of UC library non-book collections, and supporting deeper programmatic engagement with HathiTrust.
Kathryn often contributes to UC systemwide projects, most recently as a member of the UC Libraries Linked Data Project Team, and previously through participation on the Metadata Policy Project Team and as project manager to the RLF Systems and Workflows Project Team.
Education
MSI (Archives and Records Management, Museum Studies), University of Michigan
MFA (Mixed Media/Printmaking), University of Michigan
BA (Art Practice), University of California, Berkeley
Background
Prior to her current role, Kathryn led a team of developers and analysts in the Discovery and Delivery program area who maintain and enhance Zephir, a metadata management system designed and implemented by the CDL for the HathiTrust Digital Library. She also worked closely with operations and leadership staff and advisory groups at HathiTrust to prioritize metadata management development work in support of HathiTrust system functions affecting resource preservation, discovery, and access.
Kathryn has a background in managing digital resources and the metadata that describe them in a range of contexts, including work with digitized print collections, oral history media, visual resources, and archives and special collections. She has previously held positions at the University of Illinois at Chicago, where she was University Archivist and Manuscripts Librarian, and at UC Berkeley. She has managed and contributed to several metadata migration and cataloging interface design projects and has expertise in modeling, designing, and implementing processing and cataloging workflows, coordinating diverse metadata streams, developing metadata policy to promote access and use, and deploying metadata to help researchers uncover relationships between resources.
Professional Interests
collection analysis
metadata (policy, management, research use)
information visualization
digital humanities