Hardy Pottinger Staff Profile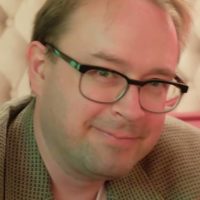 Program / Service
Publishing, Archives, and Digitization
Job Title
Publishing Systems Developer
Pronouns
he/him/his
Responsibilities
As Publishing Systems Developer, Hardy works with other PAD developers in maintaining the Jschol front-end for eScholarship, as well as our instance of Janeway for journal article and preprint publishing. Hardy also works on our pilot instance of DSpace 7. 
Education
BA in English, from Fontbonne in Saint Louis, Missouri
Background
Hardy is a DSpace Committer, since 2011, and works for CDL as a Publishing Systems Developer. He holds a BA in English, from Fontbonne in Saint Louis. He worked on the school paper, and leveraged that experience into a few jobs at the American Academy of Orthopaedic Surgeons in Chicago. During that period, he ended up doing quite a bit of developing/publishing work, mainly on web sites, and narrowly missed the tail end of the dot-com bubble. He then moved back to Missouri to be closer to family. He's been working in the Library space ever since, including 16 years as the technical lead for MOspace, the institutional repository of the University of Missouri. And, more recently, 3 years at UCLA Library as part of their Services and Applications teams. He works from home in Columbia, Missouri, has four chickens, three cats, and three kids (Ms. 15, Mr. 18 and Mr. 21). He's crazy about his wife, his kids, yo-yos, fountain pens, beer, tea, and dark chocolate. He also really enjoys working from home, and will talk your ear off about it if you let him. He sometimes posts to a personal developer-oriented blog: https://hardyoyo.hashnode.dev/.
Professional Development
Currently leaning in to the idea that work is professional development, and tries to prioritize work tasks that will entail learning a lot. So far, so good. The current focus area here is learning about Continuous Integration.
Also takes a few online courses, including the Udemy Angular 2 – The Complete Guide 2022 course, and all of the Linked-in Learning Python and Django courses.
Professional Interests
Software development community-building, through participation/volunteering, is a primary interest. Go ahead and ask Hardy to help with something, he'll probably say yes. Careful, though, he might ask you for help someday. 
Committees / Affiliations
Papers and Presentations
ORCID ID
https://orcid.org/0000-0001-8549-9354
LinkedIn Profile
https://www.linkedin.com/in/hardy-pottinger-8730b2118/