Sarah Houghton Staff Profile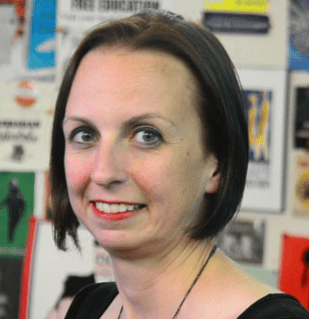 Program / Service
Discovery & Delivery
Job Title
Director
Responsibilities
Oversight for all Discovery and Delivery products including UC Library Search (systemwide ILS running on Alma), AGUA, resource sharing, and Zephir. Also overseeing R&D work on AI potential with bibliographic data.
Education
BA in English Literature, MA in English and Irish Literature, MLIS
Background
Born and raised in Illinois, Sarah has worked in libraries since 1997 and as a librarian in California since 2002.
Professional Interests
Library management systems / integrated library systems
Emerging technologies
Intellectual freedom
Censorship
Privacy
Social and racial justice in library services
UX
People development
Mental health in the workplace
Committees / Affiliations
American Library Association member (1999-present)
ALA Information Technology Policy Committee member (2022-2026)
ALA Intellectual Freedom Committee member (2021-2025)
Core Diversity and Inclusion Committee (2021-2023)
Intellectual Freedom & Social Justice Working Group (2020-2021)
ALA Working Committee on Eliminating Monetary Library Fines as a Form of Social Justice (2019-present)
ALA Committee on Professional Ethics member (2019-2021), COPE Working Group on Social and Racial Justice (2020-2021)
ALA Learning Roundtable (2008-2019)
Intellectual Freedom Roundtable (2008-present), Director-at-Large (2018-2020)
ALA Publications and Communications Committee (2016-2020)
ALA Coalition Building Committee (2018-2019)
ALA Strategic Planning Committee (2018-2019)
ALA eBooks Taskforce (2011-2012)
ALA Revising the Children's Internet Protection Act Symposium and Taskforce (2013)
CORE member (2020-present)
San Jose State University School of Information – Technology Curriculum Advisory Committee, (2016-present)
Library and Information Technology Association (2002-2020)
Top Technology Trends Committee (2005-2009)
Program Planning Committee (2008-2010)
LITA delegate to ALA Legislation Assembly (2016-2020)
Public Library Association (2004-2019)
Association for College and Research Libraries (2019-present)
Library Leadership and Management Association (2011-2020)
California Library Association member (2002-2008)
Information Technology Section President (2005-2006)
Information Technology Section Vice-President (2004)
Assembly Member (2006-2007)
Publications
January 2021 – contributing author for ALA Intellectual Freedom Manual, 10th edition
May 2019 – "Negotiating with Scholarly Journal Publishers: A Toolkit from the University of California," co-author as part of the UC Publisher Strategy and Negotiation Task Force
June 2018 – "An Overdue Discussion: Two takes on the library fine debate" for American Libraries Magazine
May 2018 – "The Challenge of Balancing Customer Service with Privacy" for the ALA Choose Privacy Week blog
February 2018 –"Re-imagining Libraries: Blazing the Digital Frontier" for Engaging Local Government Leaders
December 2016 – "4 Life Lessons I've Learned From Having Ehlers-Danlos Syndrome" for The Mighty
April 2015 – contributing author for ALA Intellectual Freedom Manual, 9th edition
September 2014 – "Filtering and Libraries: Ethical Issues" in Strategic Library, issue 9
June 2013 – contributing author for Library 2020: Today's Leading Visionaries Describe Tomorrow's Library
July 2012 – "Mobile Services for Broke Libraries: 10 Steps to Mobile Success" in The Reference Librarian, volume 53, issue 3
December 2010 – "Internet Filtering" chapter in Privacy and Freedom of Information in 21st-Century Libraries (Library Technology Report)
March 2010 – Technology Training in Libraries
May 2009 – "The Read/Write Web and the Future of Library Research" with Amanda Etches-Johnson and Aaron Schmidt in Journal of Library Administration
January 2009 – "United States Library and Librarian Blogs"  (chapter in LibWorld – Library Blogs Worldwide)
November/December 2008 – "How to Drive Traffic to Your Website" with Aaron Schmidt in Marketing Library Services
July 2008 – "Being Wired or Being Tired: 10 Ways to Cope with Information Overload" in Ariadne
Summer 2008 – "EDNF Represented at Local Charity Race" in Loose Connections
Winter 2007/2008 – "Twenty Steps to Marketing Your Library Online" in Journal of Web Librarianship
November 2007 – "Sarah's Top Ten Boss Coping Strategies" in One-Person Library
June 2007 – "Getting Up to Speed: Creating Technology Competencies" in American Libraries
June 2007 – "Imagine No Restrictions: Digital Rights Management and Libraries: What You Should Know" in School Library Journal
April 2007 -"A Day in the Life of an e-Services Librarian" chapter in Shontz, Priscilla K., ed. A Day in the Life
April 2007–Library Technology Report: Technology Competencies and Training for Libraries (available through ALA TechSource)
July 2006 – "Big Tech for Every Library" in Library Journal: NetConnect
2005 – "U R the Best: Community Building through Chat" on WebJunction
2005 – "Instant Messaging: Quick and Dirty Reference for Teens and Others" in Public Libraries
2005 – "Web-Based Chat VS. Instant Messaging" with Aaron Schmidt in ONLINE
2005 – "I've Been Framed: Designing a Library Web Site Within a Government Frame" in Computers in Libraries.
2005 – "Virtual Reference @ Your Library" in KnowledgeQuest
2004 – "Are you Sure You're a Librarian?" in California Libraries
2004 – "Important Technology Developments for California Librarians" in California Libraries
1999 – "The Unexplored Migration of the Gawain Tale: Irish, Welsh, and English Versions of the Story" in GSA Conference Proceedings
1997 – "In Emulation of Ti'ana" in Montage Magazine
Papers and Presentations
2022
January 23, 2022 – Advancing Social Justice Through the 9th Principle of the Code of Ethics
2021
June 24-28, 2021 – Can I Wear or Say That? Free Speech in the Workplace, panel presentation with Theresa Chmara and Douglas S. Zucker (ALA Annual Conference, online)
2019
November 21, 2019 – Ethics in Access Services (keynote for Access Services Conference, Atlanta, GA)
June 22, 2019 – Self-Care Is Not Selfish, panel presentation with Janie Hermann, Carson Block, Kyle Courtney, Djaaz Idakaar, and Emily Clasper (ALA Annual Conference, Washington DC)
January 24, 2019 – Self Care: Preventing Burn-Out (closing session for Wild Winter Web Conference [Wisconsin libraries])
2018
October 3, 2018 – moderating hot topic panel at the Future of Libraries Conference (San Francisco, CA)
September 27, 2018 – 21st Century Library Ethics (keynote for Canadian Rural Libraries Conference, Grande Prairie, Alberta)
August 14, 2018 – guest lecture on privacy and vendor contracts, privacy, and policies for the Library Freedom Institute
June 6, 2018 – Data-driven Decisions to Eliminate Overdue Fines (webinar with Peter Bromberg and Gretchen Caserotti for the Research Institute for Public Libraries)
March 28, 2018 – Creating an Effective Library Privacy Policy (webinar for ALA)
February 10, 2018 – F3: Fine-Free Future, panel with Peter Bromberg and Gretchen Caserotti (ALA Midwinter Conference, Denver)–part of the Symposium on the Future of Libraries
February 5, 2018: Ethics in the 21st Century Library (keynote for California Council of County Law Librarians, Sacramento, CA)
January 24, 2018 – Ethics in the 21st Century Library (webinar for Wild Winter Web Conference [Wisconsin libraries])
2017
December 12, 2017 – Dealing with Difficult People in the Workplace (webinar for SirsiDynix)
October 11, 2017 – 21st Century Library Ethics (webinar for LLAMA)
September 27, 2017 – You Can Do It: Coaching and Disciplining Library Employees (webinar for LLAMA)
June 26, 2017 – The Glass is Half Full panel presentation (ALA Annual Conference, Chicago)
May 24, 2017 – 21st Century Library Ethics keynote (Atlantic Provinces Library Association, Charlottetown, Prince Edward Island)
May 10, 2017 – Ahead of the Curve: Personnel Management Questions (webinar for SirsiDynix)
April 14, 2017 – Privacy and Social Equity (talk at Cultivating Equity at Bay Area Libraries)
March 31, 2017 – 21st Century Library Ethics (Berkeley Public Library all staff training institute)
March 24, 2017 – Thinking About Being a Leader?: Questions to Ask Yourself (talk for the Library Leadership Speaker Series, San Francisco)
March 9, 2017 – Libraries are Not Neutral (talk at the Mechanics Institute Library, San Francisco)
March 8, 2017 – 21st Century Library Ethics guest lecture to University of Washington Information School "Management of Information Organizations" class
March 1, 2017 – The Post-Truth is Out There webinar panel for sALA chapter of University of Washington Information School
February 2, 2017 – Library Power 101 (talk at The Night School, San Francisco)
January 26, 2017 – You Can Do It: Coaching and Disciplining Library Employees (webinar for Wild Winter Web Conference [Wisconsin libraries])
January 23, 2017 – 21st Century Library Ethics (ALA Midwinter Conference, Atlanta–part of the Symposium on the Future of Libraries)
2016
September 28, 2016 – Library Ethics in the 21st Century (webinar for SirsiDynix)
June 24, 2016 – What's a Millennial to Do? Learning to Thrive in a Multi-Generational Workplace (pre-conference at the ALA Annual Conference, Orlando)
January 25, 2016 – Celtic Mythology: The Most Bad Ass Mythology for Nerd Nite East Bay, Oakland
January 20, 2016 – Look Outside of Your Box: Trends to Watch (webinar for Wild Winter Web Conference [Wisconsin libraries])
2015
November 7-11, 2015 – Digital Ethics for Libraries, keynote for LIANZA (Wellington, New Zealand)
September 10, 2015 – Digital Rights: Conversations in Libraries at the Northwest Interlibrary Loan Conference, Portland
June 29, 2015 – Digital Rights in Libraries at the EFF Unconference at NoiseBridge Hackerspace, San Francisco
June 26, 2015 – Stepping Into the Role of a New Director (with Gretchen Caserotti) pre-conference at the American Library Association Annual Conference, San Francisco
March 25, 2015 – Open Data Revolution for the Marin County Council of Mayors and Councilmembers
January 29, 2015 – keynote at BayNet/Special Library Association Annual Meeting (San Francisco)
January 21, 2015 – The Wrong Love: Real Conversations about Love in Libraries (webinar for Wild Winter Web Conference [Wisconsin libraries])
January 14, 2015 – Succeeding as a New Library Manager (webinar for NEFLIN)
2014
December 2, 2014 – The Secret Truth About Modern Libraries for Nerd Nite North Bay, Novato, California
November 12, 2014 – 10 Must-Have Skills for Today's Library Director (webinar for SirsiDynix)
November 7, 2014 – So You Got the Job: Now What? for the New York Library Association (Saratoga Springs, New York)
November 6, 2014 – The Ethics of Managing the Digital Library for the New York Library Association (Saratoga Springs, New York)
October 1, 2014 – guest lecturer for Public Libraries MLIS course at St. Catherine University
September 4, 2014 – Transitioning Into Library Management (webinar for NEFLIN)
August 18, 2014 – Assessing Library Facility Needs in the 21st Century (webinar for Wisconsin Trustee Learning Week)
July 25, 2014 – Digital Content and Library Ethics for Oakland Public Library staff day (Oakland, California)
June 28, 2014 – Technology Priorities for the New Library Reality at the American Library Association Annual Conference (Las Vegas, Nevada)
June 27, 2014 – Stepping into the Director Role: Preparing for the Part panel (with Ed Garcia, Gretchen Caserotti, and Chris Shoemaker) at the American Library Association Annual Conference (Las Vegas, Nevada)
May 9, 2014 – Betting on Library Futures at the Joint Conference of the Maryland and Delaware Library Associations (Ocean City, Maryland)
April 11, 2014 – Rise of the Youngsters: A Gen X and Millennial Management Team (with Vanessa Christman) at the Urban Librarians Conference (Brooklyn, New York)
April 4, 2014 – Digital Teach In for "A Day of Action Against Censorship in Libraries" for the Electronic Frontier Foundation
March 14, 2014 – So You Want to Be a Director: Fleas, Death Threats, Budget Cuts, and Prison Wardens at the Public Library Association Annual Conference (Indianapolis, Indiana)
March 13, 2014 – Filtering out Internet Censorship: Advocacy, Professional Ethics, and the Law (with Deborah Caldwell-Stone) at the Public Library Association Annual Conference (Indianapolis, Indiana)
January 15, 2014 – Keep It Real, Keep It Simple (webinar for Wild Winter Web Conference [Wisconsin libraries])
2013
December 18, 2013 – Where'd the Card Catalog Go? Today's Ass-Kicking Libraries and Librarians for Nerd Nite San Francisco
October 28, 2013 – Tech Librarianship & Gender – panel with John Bultena, Ryan Claringbole, Emily Clasper, Kate Kosturski, Tatum Lindsay, and Nicholas Schiller for Internet Librarian Conference (Monterey, California)
October 12-25, 2013 – keynote for Polish Public Library Association (Warsaw, Poland) and two week tour of Polish public libraries in Zielona Góra, Gorzów Wlkp,  Kraków, Opole, and Olsztyn
October 7, 2013 – Future of Digital Libraries for Medical Library Association, Midwest Chapter annual conference (East Peoria, Illinois)
September 12, 2013 – Hot Tech Trends webinar for Indianhead (Wisconsin) Federated Library System
July 29-30, 2013 – Chilidren's Internet Protection Act (CIPA) Symposium (Washington DC)
July 1, 2013 – So You Want to Be a Director: Fleas, Death Threats, Budget Cuts, and Prison Wardens for American Library Association Annual Conference (Chicago, Illinois)
June 30, 2013 – Access denied! Filtering: Trouble, Tyranny, and Triumph for American Library Association Annual Conference (Chicago, Illinois)
June 30, 2013 – LITA Top Technology Trends panel for American Library Association Annual Conference (Chicago, Illinois)
June 29, 2013 – Building A to Zoo for Apps panel for American Library Association Annual Conference (Chicago, Illinois)
May 17, 2013 – Future of Digital Libraries for Northern California Technical Process Group Conference (San Francisco, California)
April 25, 2013 – keynote for OLA/WLA joint conference (Vancouver, Washington)
January 16, 2013 – Library Ethics and Digital Content webinar for the Wild Wisconsin Winter Web Conference
2012
November 29, 2012 – e-Lending panel webinar for the London Information and Knowledge Exchange
November 2, 2012 – guest lecture for UW-Madison SLIS class on technology in small libraries
October 22, 2012 – The Next Big Thing panel at the Internet Librarian Conference (Monterey, California)
October 17, 2012 – The ABCs of eBook Discovery webinar panel for the The Digital Shift: Libraries, eBooks, and Beyond
October 7, 2012 – keynote webinar for the LITA National Forum
August 24, 2012 – keynote for Tilburg Innovation Centre for Electronic Resources (Tilburg, Netherlands)
July 24, 2012 – Tech Trainer Boot Camp webinar for Nicolet Library System
July 17, 2012 – panel speaker for ScienceOnline Bay Area: Inside the eBook Revolution (San Francisco, California)
July 11, 2012 – Community Media Center of Marin television program with author Jason Benlevi (author of Too Much Magic: Pulling the Plug on the Cult of Tech) (San Rafael, California)
May 30, 2012 – User Experience Design for Websites (webinar) for Web of Languages Conference
May 4, 2012 – keynote for Michigan Rural Libraries Conference (Traverse City, Michigan)
May 3, 2012 – keynote for L'Association des bibliothecaires du Quebec Conference (Montreal, Quebec)
April 27, 2012 – Future of Libraries webinar keynote for North Olympic Library System
March 22, 2012 – "Ebook Trends: Info Pro Perspectives" with Andy Woodworth and Michael Porter at the Computers in Libraries Conference (Washington, DC)
March 22, 2012 – Battledecks! at the Computers in Libraries Conference (Washington, DC)
March 20, 2012 – eBooks and Access, Part II webinar for TBLC
March 20, 2012 – eBooks panel for the Library Journal National Leadership Workshop (San Jose, CA)
March 16, 2012 – Future of Libraries panel for the San Jose Public Library Staff Day (San Jose, CA)
March 10, 2012 – eBooks and Libraries panel at the Independent Book Publishers Association Publishing University (San Francisco, CA)
March 2, 2012 – Technology Training workshop for the New York Public Library (New York, NY)
February 28, 2012 – "Future of Libraries" webinar for Nicolet Library System
February 21, 2012 – "E-Books and Access: Upholding Library Values" webinar for Tampa Bay Library Consortium
February 8, 2012 – "DRM for Libraries" webinar for the AMIGOS Online Conference
January 26, 2012 – "Web Analytics: Part II," an ALA TechSource webinar (with Paul Signorelli)
January 12, 2012 – "Web Analytics: Part I," an ALA TechSource webinar (with Paul Signorelli)
2011
December 28, 2011 – Interview with Michael Sauers on NCCompass Live
December 15, 2011 – "eBooks: Legal and Ethical Issues for Florida Libraries" webinar for NEFLIN (Florida)
December 14, 2011 – "eBooks and Access: Upholding Library Values: Part II," an ALA TechSource webinar
December 13, 2011 – "Information Overload" for the Tennessee Library Association
December 7, 2011 – "eBooks and Access: Upholding Library Values: Part I," an ALA TechSource webinar
November 16, 2011 – "eBooks Landscape Overview" webinar for Bucks County Libraries (Pennsylvania)
November 10, 2011 – "Future of Libraries" webinar for NEFLIN (Florida)
November 3, 2011 – "Google+: A Plus (or Minus) for Libraries?" for the Library 2.011 online conference
October 26, 2011 – "Future of Libraries" for Michigan Library Association in Kalamazoo, Michigan
October 19, 2011 – "Talk About: Publishers, Distributors, and Terms of Use" panel discussion at the Internet Librarian Conference
October 19, 2011 – "Getting Things Done: Tips & Tricks" panel with Niccole Westbrook and Colleen Harris at the Internet Librarian Conference
October 19, 2011 – "Digital Content Frustration: Copyright, Licensing, & DRM" at the Internet Librarian Conference
October 18, 2011 – "Ebooks: Putting the Issues on the Table" panel discussion with Dick Kaser, Bobbi Newman, Amy Affeft, and Faith Ward at the Internet Librarian Conference
October 17, 2011 – "20 Steps to Creating Web-Based Library Services" at the Internet Librarian Conference
September 30, 2011 – "Future of Libraries" keynote for Polaris Users Group in Dallas
September 28, 2011 – "Future of Libraries" webinar for Tennessee Library Association
September 23, 2011 – "Future of Libraries" webinar for SEFLIN (Florida)
September 19, 2011 – Keynote for the Bill & Melinda Gates Foundation Global Libraries Initiative's Peer Learning Meeting (Seattle)
September 14, 2011 – Project Management webinar for Georgia State University Library
August 10, 2011 – "Getting Admin Buy-In for Training" – Trends in Library Training and Learning: Developing Staff Skills for the 21st Century (WebJunction and ALA Learning Roundtable)
August 3, 2011 –  "Digital Rights Management, Copyright, and Terms of Service for Digital Content"  for TechNet 2011: The Fourth Annual North Texas Conference on Library Technology in Decatur, Texas
August 3, 2011 – "The Future of Digital Libraries" (w/Jessamyn West, Michael Porter, & Rachel Vacek) for TechNet 2011: The Fourth Annual North Texas Conference on Library Technology in Decatur, Texas
August 3, 2011 – "New Technologies" keynote (w/ Michael Porter & Rachel Vacek) for TechNet 2011: The Fourth Annual North Texas Conference on Library Technology in Decatur, Texas
June 24, 2011 – "User Experience Design for Websites" pre-conference – American Library Association Annual Conference in New Orleans
June 20, 2011 – "Augmented Reality and Mobile Library Services" – Next Library Conference in Aarhus, Denmark
May 10-June 6, 2011 – "Web Searching 2" 4-week online course for Infopeople
May 24, 2011 – "Free and Cheap Web Services for Libraries" webinar for Metropolitan New York Library Council
May 19, 2011 – "Coping with Information Overload" – Infopeople webinar
May 17, 2011 – "Using Skype for Training" for the American Society for Training and Development
May 17, 2011 – "Future of Libraries" webinar for Metropolitan New York Library Council
April 15, 2011 – keynote "Designing Digital Spaces for Positive User Experiences" for Association of Independent School Librarians Annual Conference, in San Francisco
April 11, 2011 – Can eBooks Fit In to the Print Book Paradigm, Infopeople webinar
March 22, 2011 – "MetaSocial: Making Online and Mobile Interactions Rock" for the Computers in Libraries Conference, with David Lee King and Nate Hill
March 22, 2011 – "Adding Value in Our Communities: Dead & Innovative Tech" for the Computers in Libraries Conference, with D. Scott Brandt, Stephen Abram, Marshall Breeding, Amanda Etches-Johnson, Aaron Schmidt, and Bill Spence
March 21, 2011– Moderating "Information Discovery & Search" Track at the Computers in Libraries Conference
March 20, 2011 – "Designing Digital Spaces for Positive User Experiences: UX4Lib" pre-conference for the Computers in Libraries Conference, with Nate Hill and Aaron Schmidt
March 15, 2011 – "Technology Training 101" – for the Mt. Diablo Chapter of the American Society for Training and Development
March 2, 2011 – "Project Management and Measuring Success for Digital Projects" – Infopeople webinar
February 23, 2011 – "Augmented Reality 101 for Libraries" with Nate Hill for the Handheld Librarian 3 Online Conference
February 1-3, 2011 – keynote for the Australian Library and Information Association (ALIA) Information Online Conference and Exhibition in Sydney, Australia
January 31, 2011 – "Library 3.0 Services without 3.0 Million Dollars: Free and Cheap Web Services for Broke Libraries" pre-conference workshop for the Australian Library and Information Association (ALIA) Information Online Conference and Exhibition in Sydney, Australia
January 27, 2011 – keynote for Edgy Librarian Conference (online)
2010
December 9, 2010 – "User Experience Design for Web Services" – Infopeople webinar
October 27, 2010 – "Best Free Web Stuff for Broke Libraries" at the Internet Librarian Conference
October 26, 2010 – Moderating "Innovation, Risk, & Failure" Track at the Internet Librarian Conference
October 26, 2010 – "Fail! Learn! Share!" with other panelists at the Internet Librarian Conference
October 26, 2010 – "Augmented Reality & Libraries" with Jaap Van de Geer and Erik Boekesteijn at the Internet Librarian Conference
October 25, 2010 – "Digital Managers Sound Off!" with David King, Bobbi Newman, and Matt Hamilton at the Internet Librarian Conference
October 24, 2010 – "UX4Lib: Designing Digital Spaces for Positive User Experiences" with Aaron Schmidt – Internet Librarian Pre-Conference Workshop
October 20, 2010 – "Technology for Small Libraries" webinar for the Florida Panhandle Library Access Network
October 13, 2010 – "Mobile Services for Libraries" – Infopeople webinar
October 12, 2010 – "Online Outreach and Marketing" webinar for the Florida Panhandle Library Access Network
September 29, 2010 – "Ebook 'What Ifs': Issues that Impact Scenario Planning" webinar panel with Matt Hamilton, Josh Hadro, and Bobbi Newman for the eBooks at Libraries: The Tipping Point – Library Journal Virtual Summit
September 21, 2010 – "2.0 Services without 2.0 Million Dollars: The Best Free Web Services for Broke Libraries" for the Future of Libraries Conference (San Francisco)
September 2010 – "Web Searching 2: Advanced Tools and Tips" – four-week online class for Infopeople
August 25, 2010 – "Battling Information Overload: Key Techniques for Different Technologies" – SLA Webinar
August 4, 2010 – "Battling Information Overload: Information Professional Skills to Help You Through" – SLA Webinar
July 29, 2010 – "Mobile Services on a Shoestring" – Handheld Librarian 3 Conference
July 29, 2010 – "Augmented Reality" – Handheld Librarian 3 Conference
July 28, 2010 – "Battledecks – Mobile Libraries" – Handheld Librarian 3 Conference (WINNER!)
July 22, 2010 – "The Future of Libraries and Technology: The Phoenix Rising from the Ashes" – Keynote for the SEFLIN Annual Conference
June 8, 2010 – "The Future of Libraries and Technology: The Phoenix Rising from the Ashes" for ALS/TAP Information Services Futures for Libraries conference
May 12, 2010 – "Coordinating a Social Media Presence for the Library" webinar for the Innovation for Libraries in the 21st Century Online Conference
May 11, 2010 – "Quick and Easy Library Mobile Services" for the Bay Area Special Library Association
May 4, 2010 – "Best Free Web & Technology Services for Libraries" webinar for the California Library Association
April 19, 2010 – keynote (webinar) for LANCR & Ottawa Public Library conference
April 14, 2010 – "Best Free Web Services for Broke Libraries"at the Computers in Libraries Conference
April 13, 2010 – "Dead & Innovative Technology: Recreating the Information World" with Ringmaster Scott Brandt & Speakers: Stephen Abram, Marshall Breeding, Amanda Etches-Johnson, David Lee King, Bill Spence at the Computers in Libraries Conference
April 13, 2010 – "Mobile Tips & Practices" with Jason Clark, Laurie Bridges, & Kim Griggs at the Computers in Libraries Conference
April 12, 2010 – "Digital Manager Sound Off" with Bobbi Newman & David King at the Computers in Libraries Conference
April 12, 2010 – "Website Redesign: Two Case Studies" with Kristina Bobe, Stephen Fernie, Shian-Chih Chiang, & William Wheeler at the Computers in Libraries Conference
April 12, 2010 – "Tips for Fast Tech Project Implementation" with John Blyberg & Amanda Etches-Johnson" at the Computers in Libraries Conference
February/March 2010 – "Web Searching 1: Essential Tools & Tips" (four-week online class for Infopeople)
January 27, 2010 – "Staying Current and Dealing with Information Overload" for the Nicolet Federated Library System  and the Wisconsin Valley Library Service
January 21, 2010 – keynote speaker "Tough Times Make Tougher Libraries" for the Iowa Small Libraries Online Conference
January 20, 2010 – Drupal for Libraries panel with Laura Solomon and David Campbell for The Edgy Librarian Conference
2009
November 12, 2009 – "Technology Assisted Reference" at the Hawaii Library Association Annual Conference
November 12, 2009 – "The Challenge of Assessing Digital Library Services" at the Hawaii Library Association Annual Conference
November 12, 2009 -"Gaming at Your Library" at the Hawaii Library Association Annual Conference
November 12, 2009 – "New Technologies that Save Money, Time, and Improve Service" at the Hawaii Library Association Annual Conference
November 12, 2009 – "Tips for Negotiating Salaries, Benefits, & Perks" at the Hawaii Library Association Annual Conference
November 12, 2009 – "Where Do We Go From Here: The Next Decade for Libraries" at the Hawaii Library Association Annual Conference
October 28, 2009 – "Technology: The Engine driving Pop Culture-Savvy Libraries or Source of Overload?" for Internet Librarian Conference
October 27, 2009 – "Trying Not to Filter: Internet Filtering Technologies Update" for Internet @ Schools West Conference
October 26, 2009 – "2.0 Too: Web Services for Underfunded Libraries" for Internet Librarian Conference
October 23, 2009 – Keynote on "The Library User of the Future" for the Librarians' Association of the University of California-Berkeley
June/July 2009 – "Free, Fast, & Factual: Top Online Reference Resources" (online class for MVLS through Infopeople)
May 6, 2009 – Keynote for OHIONET Annual Meeting
April 2, 2009 – "Keeping Up & Handling Information Overload" for the Texas Library Association
April 1, 2009 – "Learning Solutions Through Technology" for the Computers in Libraries Conference
March 31, 2009 – "Social Network Profile Management" for the Computers in Libraries Conference
March 30, 2009 – "I Wanna Be 2.0 Too!: Web Services for Underfunded LibrariesI Wanna Be 2.0 Too!: Web Services for Underfunded Libraries" for the Computers in Libraries Conference
March 25, 2009 – "Web Services for Small Libraries" webcast for the Nicolet Federated Library System (Wisconsin)
2008
December 9, 2008 – Keynote on "Sustainable Technology in a 2.0 World" for Arizona Library Association Annual Conference
December 2, 2008 – "Web 2.0 Services for Smaller, Underfunded Libraries" for the Canadian Education Institute
October 21, 2008 – "SharePoint for Libraries: Streamlining Your Intranet Management" with Shannon Staley for Internet Librarian Conference
October 21, 2008 – "Solving the Money Problem" with Laura Crossett for Internet Librarian Conference
October 20, 2008 – "Digital Marketing: Successful Plans/Organizations" with Aaron Schmidt for Internet Librarian Conference
October 14, 2008 – "Reaching Patrons: Online Outreach for Public Libraries" for the North Suburban Library System Annual Summit
October 14, 2008 – "Collection Development for eResources" for the North Suburban Library System Annual Summit
September 19-21, 2008 – " I Wanna Be 2.0 Too!" for the Association of Rural and Small Libraries
September 19-21, 2008 – "Online Marketing for Small Libraries" for the Association of Rural and Small Libraries
July 10, 2008 – "Technology Training and Competencies" for the Ohio Library Council Annual Reference & Adult Services Conference
July 10, 2008 – "I Wanna Be 2.0 Too!: Web Services for Smaller and Underfunded Libraries" for the Ohio Library Council Annual Reference & Adult Services Conference
June-July 2008 – "Free, Fast, and Factual: Top Online Reference Sources" – 4-week online course for Infopeople
June 20, 2008 – Keynote for the Mississippi Libraries 2.0 Summit (Sustainable Web Technologies)
June 11, 2008 – "Online Outreach Techniques for Academic Libraries" for the University of San Francisco Library
June 4, 2008 – "Tools for Staying Current" for the Arizona Libraries Summer Institute
June 4, 2008 – "Staying Current: Methods for Essential Professional Development" for the Arizona Libraries Summer Institute
May 15, 2008 – OPAL webcast "Technology Training and Competencies for Libraries"
May 8, 2008 – OPAL webcast "Online Marketing for Libraries"
April 24, 2008 – Infopeople webcast on Counting Website Statistics for the Annual Public Library Survey
April 15, 2008 – "Technology Training and Competencies" webcast for the Canadian Education Institute
April 9, 2008 – "Online Outreach for Libraries: Successful Digital Marketing" at the Computers in Libraries Conference
April 9, 2008 – "Staff Tech Training" with Maurice Coleman and Annette Gaskins at the Computers in Libraries Conference
April 7, 2008 – "Web 2.0 Services for Smaller, Underfunded Libraries" at the Computers in Libraries Conference
April 6, 2008 – "Technology Training for Library Staff: Creativity Works!" (Preconference) with Maurice Coleman and Annette Gaskins at the Computers in Libraries Conference
February 19, 2008 – "The Future of Libraries" for the San Francisco Public Library's "Tuesday Public Forum Series"
2007
November 11, 2007 – "Building a Thriving eBranch" at the Hawaii Library Association
November 11, 2007 – "Technology Training Tips" at the Hawaii Library Association
November 10, 2007 – "Online Outreach and Marketing" at the Hawaii Library Association
October 30, 2007 – "How to Lose Your New Tech Librarian & Tech Training" (w/ Michael Stephens, Christopher P. Hamb, and Jenny Benevento) at the Internet Librarian Conference
October 29, 2007 – "Online Marketing for Libraries: Outreach & PR in a 2.0 World" (w/Aaron Schmidt) at the Internet Librarian Conference
October 29, 2007 – "Web Design on a Dime: Quick Web Tips for Small Libraries" at the Internet Librarian Conference
September 26, 2007 – "Digital Customers" for the Future of Libraries Conference in San Francisco
September 26, 2007 – "From F2F to Fingertips2Fingertips" for the Future of Libraries Conference in San Francisco
September 26, 2007 – co-moderated entire day-long Future of Libraries Conference in San Francisco (with Anthony Costa)
September 4, 2007 – Canadian Education Institute webcast: Online Outreach: 2.0 Marketing Strategies for Libraries
July 25, 2007 – Core Competencies for Library Staff webinar (WebJunction)
June-July 2007–teaching "Library 2.0: Developing an eBranch" (Infopeople 4-week online course)
April 2007–teaching "Library 2.0: Developing an eBranch" (Infopeople 4-week online course)
April 19 2007–Washington Library Association keynote with Walt Crawford
2006
November 11, 2006 – What's Hot in Technology with Scott Bauer and Michael Porter @ California Library Association Annual Conference
November 11, 2006 – How Do You IM? panel with several librarians @ California Library Association Annual Conference
November 11, 2006 – Technology Training for Staff: CLA Tech Core Competencies @ California Library Association Annual Conference
October 27, 2006 – for Assn. of Jesuit Colleges and Universities (University of San Francisco) – IM Reference: It's What's for Dinner
October 23, 2006 – Cultivating Tech-Savvy Library Staff: Competencies & Tips with David King @ Internet Librarian Conference
October 23, 2006 – Reaching Patrons: Online Outreach for Public Libraries @ Internet Librarian Conference
October 18, 2006 – Future of Libraries Workshop @ San Francisco Public Library – Social Software for Libraries
October 11, 2006 – Sacramento Public Library's All Staff Day – Building a Successful eBranch
October 10, 2006 – Sirsi-Dynix Webinar with Aaron Schmidt – "Engaging Youth on their Own Terms: Instant Messaging and Gaming in Libraries."
2006 – "Evolving Library Services for Digital Natives" with Aaron Schmidt, Stephen Abram, and Alane Wilson for 2020 Vision Conference: Idaho Library Challenges of the Future
2006 – "IM for the Library: How Instant Messaging Can Connect Librarians with Kids and Teens" for the Bay Area Library and Information System
2006 – "What's Hot in Technology" for Santa Clara County Library's All Staff Day
March 2006 – "Creating a Digital Archive on a Shoestring" for Public Library Association Annual Conference
March 2006 – "Having a Phone: IM Reference" for Al@din Librarians Group in Utrecht, Netherlands
March 2006 – "What's Hot in Technology" for the San Mateo County Library's All Staff Day
2005
November 2005 – "Blah Blah Blog" for California Library Association Annual Conference
November 2005 – "What's Hot in Technology" for California Library Association Annual Conference
November 2005 – "A Primer on Virtual Reference" for California Library Association Annual Conference
October 2005 – "Web Trends and Innovations" for Internet Librarian
October 2005 – "Future Tech Trends for Public Libraries" for Internet Librarian
2005 – "Heavyweights Beware: Alternatives to Traditional Virtual Reference Products" for Virtual Reference Desk Conference
2005 – "Blog University" for North Bay Cooperative Reference Committee
2005 – "What's Hot in Technology" for Monterey Bay Area Cooperative Library System Annual Meeting
2005 – "Everything Old Is New Again: Digital Library Services" for California Association of Library Trustees and Commissioners Annual Meeting
May 2005 – "What's Hot in Technology" webcast for the California Library Association Information Technology Section
2005 – "Free, Fast, and Factual: Top Online Reference Sources" (4-week online learning course for Infopeople)
2004
2004-2005 – "Free, Fast, and Factual: Top Online Reference Sources" (day-long course taught California-wide for Infopeople)
November 2004 – "Starting Your Library's Blog" for California Library Association Annual Conference
November 2004 – "What's New in Technology" for California Library Association Annual Conference
October 2004 – "Designing a Library Website Within a Frame" for Internet Librarian
2003 and before
2003-2004 – "More than Letters and Booklists: Intermediate Microsoft Word" (day-long course taught California-wide for Infopeople)
2002 – "Desktop Publishing on a Shoestring" (day-long course taught California-wide for Infopeople)
1999 – "The Unexplored Migration of the Gawain Tale: Irish, Welsh, and English Versions of the Story" for Texas Tech University Annual Conference
ORCID ID
https://orcid.org/0000-0003-0787-3026
LinkedIn Profile
https://www.linkedin.com/in/sarahhoughtonlib/