Renata Ewing Staff Profile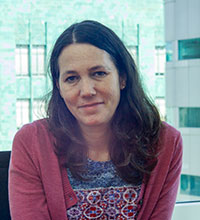 Program / Service
Publishing, Archives, and Digitization
Job Title
Access and Support Coordinator, Digitization & Digital Content
Responsibilities
Renata provides planning, coordination, analysis and communications to support UC system-wide digitization projects, including projects in partnership with Google other digitization agents. She also supports the UC Library Reprints Service and CDL's CRMS initiative with HathiTrust.
Education
MSI, University of Michigan School of Information
MA English (Creative Writing), San Francisco State University
BA History, Earlham College
Background
Renata has worked with many digital organizations and libraries, including the Earlham College Library, California Supreme Court Library, Ask Jeeves, Yahoo!, Internet Archive, and OERCommons.
Committees / Affiliations
NCTPG (Northern California Technical Processes Group)
LinkedIn Profile
https://www.linkedin.com/in/renataewing/