Barbara Cormack Staff Profile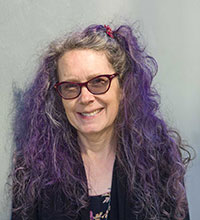 Program / Service
Discovery & Delivery
Job Title
Sr. Metadata Analyst
Pronouns
she/her
Responsibilities
Barbara's primary responsibility is as metadata analyst for Zephir, the bibliographic metadata management system for HathiTrust.
Education
M.L.S. State University of New York, Albany
M.A. English, University of Massachusetts, Amherst
B.A. Medieval Studies, University of Massachusetts, Amherst
Background
Prior to joining CDL, Barbara was a project manager for Equinox Open Library Initiative, working with libraries implementing the open source ILS Evergreen. She joined Equinox after working in the UC Berkeley Acquisitions department managing e-resources. Before coming to Berkeley she was with Innovative Interfaces, Inc. for a number of years where she held positions as Data Analyst and Product Analyst.
Professional Interests
Metadata standards and management systems
ILS software
Classification systems
Committees / Affiliations
UC Cataloging Metadata Common Knowledge Group
Northern California Technical Processes Group