Library Services/Research Resources Available to UCOP Staff
An impressive array of library services and research resources is available from UCOP. You can access resources from your desktop or from off-site via the UCOP VPN. For access to even more resources, some UCOP staff are eligible to obtain a UC Berkeley library card and a UC Berkeley proxy server account, which provides access to…
A Berkeley library card provides other benefits, such as the use of the Request (Interlibrary Loan) and BAKER (Document Delivery) services.
Getting Started
UC Berkeley Library Cards
Select UCOP staff working on behalf of Berkeley as part of their primary job are eligible for library privileges. To determine eligibility, the UCOP employee completes the online application which is forwarded to their supervisor for verification of eligibility.
Note: At the bottom of the online application, the instructions indicate that the UCOP employee must enter the full name and email address for the UCOP Department Head. This is incorrect; the full name and email address provided should be for the UCOP employee's supervisor, not the department head.
Once approved, the employee is given a library card number and PIN to access online resources. A current government-issued ID such as a driver's license or passport must be presented at the Privileges Desk (Doe Library, Floor 1) to pick up a borrowing card in order to check out printed materials.
Renewing UC Berkeley Library Cards
Access is granted for up to one year at a time, ending on June 30th. The UCOP employee is responsible for maintaining their current contact information with the Berkeley Library and for following Berkeley Library policies.
Annual renewals may be requested using this same process, which means that UCOP staff members who currently have valid UCB library cards set to expire on July 1 will need to complete the online application per the instructions above (preferably in advance of the annual expiration date), in order for the library card to be renewed for another year.
Questions about UCB library card procedures should be sent to the Privileges Desk at privdesk@library.berkeley.edu.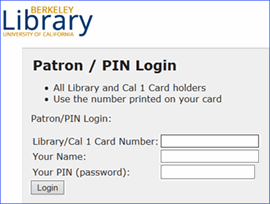 Using UCB's Proxy Server (EZproxy)
Once a borrowing account has been established, UCOP staff may use UCB's proxy server (with Library Card Number, Name and PIN/password validation) to access UCB-licensed resources remotely.
For more information about borrowing, see http://www.lib.berkeley.edu/services/borrowing.html. For more information about using the UC Berkeley Library, see http://www.lib.berkeley.edu/.
Off-Site and UCOP Wireless Access
In addition to the resources & services that are available while physically connected to the UCOP network, most are also available off-site via UCOP's VPN service. See Off-Campus Access FAQ for information on UCOP's VPN service. Note: Use of UCOP's VPN service is also necessary to access UC-licensed resources when connected to the Internet via UCOP's wireless networks.
Finding Research Materials
Melvyl is the discovery platform for the UC Libraries' union catalog, using OCLC's WorldCat Discovery (WCD) platform. WCD was chosen because of the seamless connection to the larger research world – the ability to search 800 million+ items from research institutions throughout the world.
Use Melvyl to locate books/ebooks, journals/ejournals, articles, dissertations, government documents and much more. Once you've located an item of interest, click the UC-eLinks link in the "Check Availability" section of the full record display.
If the item is not available online, look at the "Check Availability" section for UC Berkeley Libraries. If the item is available from a UC Berkeley library, you can use your UC Berkeley library card (if you have one) to obtain it. If the item is not held at UCB, you can use UC's Interlibrary Loan (ILL) service (Request) to request the item from another library. Note: UCOP staff must have a UCB library card to use Request.
Linking to Resources: Using UC-eLinks
UC-eLinks provides links to the services available for a specific item based on the user's IP address. UC-eLinks provides an easy way for users to move from an article or book citation to the electronic version of the item; check to see if the item is available in the campus library; or request items not available on campus via interlibrary loan (Request) services.
You'll also find UC-eLinks in article databases and in Google Scholar. Note: You must select California Digital Library (UC-eLinks) as your library in your Google Scholar Preferences.
Using Interlibrary Loan Services: Request
The Request service provides fast and convenient interlibrary loan (ILL) and document delivery service (DDS) to UC faculty, students, and staff. Users can access Request from Melvyl, UC-eLinks, or from Citation Linker. UCOP staff must have a UCB library card to use Request.
Mass Digitization Books & Journals: HathiTrust
UC Libraries books and serials in the public domain in HathiTrust are open to all researchers whoever and wherever they may be. The full text of works under copyright (generally, after 1923) are not available online. For works under copyright, a "Limited (search only)" feature is available that displays the number of times that your search terms are found in a specific work.
Locating Known Research Materials
Ejournals
UCOP staff have access to systemwide-licensed electronic journals. If you are looking for a specific title, you can locate the systemwide-licensed ejournals on the CDL A-Z ejournal list.
Locating a Specific Item: Citation Linker
If you have the citation for a specific item you want, you can use Citation Linker to see if it is available online, in a UCB library or to request the item via interlibrary loan services.
Caveat on Data Mining
In most cases, UC faculty, staff, and students are contractually prohibited from data mining or other systematic downloads. See UCB's Conditions of Use and Licensing Restrictions for Electronic Resources for details. If you feel your research needs call for systematic downloads, please contact CDL first so we can contact the vendor on your behalf.
Managing Your Research
CDL's University of California Curation Center (UC3) provides high quality and cost-effective solutions that enable UC constituencies — museums, libraries, archives, academic departments, research units, and individual researchers — to have direct control over the management, curation, and preservation of the information resources underpinning their scholarly activities.
Digital Repository: Merritt
Merritt is a cost-effective repository service from the University of California Curation Center (UC3) that lets the UC community manage, archive, and share its valuable digital content.
Data Management Plan: DMPTool
Managing your data before you begin your research and throughout the research life cycle is essential to ensure usability, preservation and access. Federal agencies and other funders now require that grant awardees include a data management plan with their grant proposals. We can help you meet these new requirements with DMPTool. UC3 is ready to consult with UC faculty members and researchers as you develop data management plans. Please contact UC3 directly for more information.
Managing Identifiers for Content: EZID
EZID (easy-eye-dee) is a service that makes it simple for digital object producers (researchers and others) to obtain and manage long-term identifiers for their digital content.
See the University of California Curation Center (UC3) web page for a complete list of preservation resources and services.
Publishing Your Research
CDL provides open access digital publication services to the University of California community, supports widespread distribution of UC research materials, and fosters new models of scholarly publishing through the development and application of advanced technologies.
Open Access Scholarly Publishing Platform: eScholarship
eScholarship is the Access & Publishing Group's open access scholarly publishing platform, providing digital publishing services, including Print on Demand, to the University of California and delivering a dynamic research platform to scholars worldwide. See what UCOP departments are publishing with eScholarship.
Learn all you need to know about UC's Open Access Policy at the Office of Scholarly Communication website.
Other CDL Services
See the California Digital Library (CDL) website for more information on all of CDL's resources and services.
Who to Contact…
If you have questions about any of CDL's services and resources, please contact CDL. If you need reference assistance, please contact the appropriate UC Berkeley library for your topic. See UCB's Libraries and Collections A-Z for more information.