Getting Started with UC-eLinks
What is UC-eLinks?
UC-eLinks provides a way to:
Link to the full electronic text of articles in journals that the library subscribes to via databases or publisher websites.
Link to local campus or UC systemwide catalog holdings to determine if the library owns a particular item in print or electronic format.
Request items, which may be delivered to you if you use your campus document delivery service; otherwise, you will be notified when the item arrives and may pick it up at the library.
Add the citation to a bibliography by copying and pasting the citation and full text link to your document.
Export the citation into EndNote/ProCite via the ISI Direct Export Tool.
Get Help, such as Ask a Librarian, which allows you to contact a librarian in person, via telephone, email or online chat; read the UC-eLinks FAQ; or report problems with UC-eLinks.
UC-eLinks is the UC-customized version of SFX, a product of Ex Libris, which uses OpenURL linking technology.
Who can use UC-eLinks?
Anyone can use UC-eLinks, although only UC faculty, students, and staff have access to the UC-licensed ejournals and other full text resources. UC-eLinks is able to recognize that a user is on a UC campus or is using a UC campus proxy server or VPN.
Very Important: Popup blocking software must be disabled for the UC-eLinks service to function.  Either disable your popup blocking software, or add "http://ucelinks.cdlib.org:8888" to your list of sites that allow the use of popup windows.
You can get to UC-eLinks from many of the journal article databases licensed by CDL and the UC campuses on behalf of the UC community, and from selected resources such as the Melvyl/UC campus instances. You can also get to UC-eLinks by entering your citation information into Citation Linker. Citation Linker is available at http://ucelinks.cdlib.org:8888/sfx_local/cgi/core/citation-linker.cgi. You may also see UC-eLinks in other tools such as PubMed or Google Scholar.
Using UC-eLinks Step by Step
When using the UC-eLinks service you will go through a sequence of steps that will link you to the available services.
1. Select the item you wish to locate by clicking on the UC-eLinks button or the words, UC-eLinks, on the database screen.
2. You may then go directly to the item, which you'll find in the main UC-eLinks frame. The UC-eLinks sidebar includes a Full UC-eLinks Menu button which displays the UC-eLinks menu, including the full array of UC-eLinks services. Click the Help link at the top of the sidebar to quickly display the "Report a problem with UC-eLinks" online form. See Figure 1 below.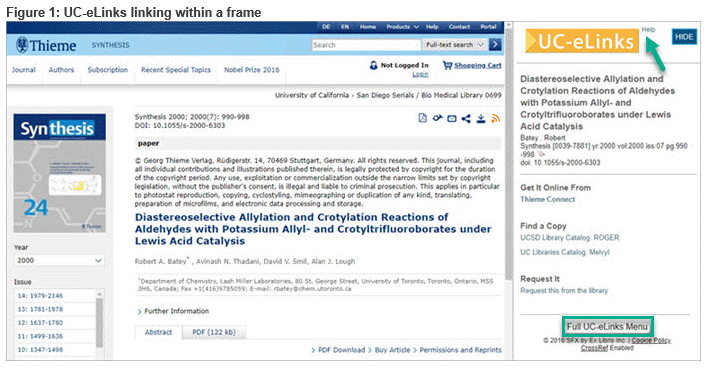 By clicking on the Full UC-eLinks Menu button in the sidebar, you may be able to select the full text from other vendors, if available; use Request (Interlibrary Loan); and see links to other services such Ask a Librarian and the UC-eLinks FAQ. See Figure 2 below.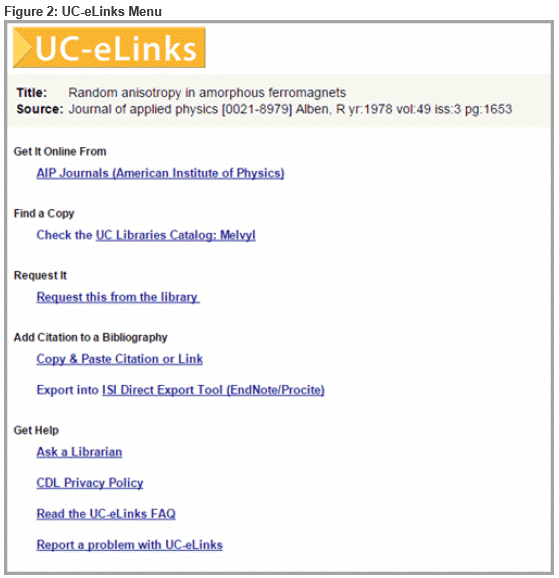 3. In the case of some publishers, you will be presented with the UC-eLinks menu window the first time you click on an article from the publisher. For subsequent articles from that same publisher, you will go directly to the full text without viewing an intervening UC-eLinks window.
In other instances, users will not see the citation information and a link to the UC-eLinks menu window above the full text because the publisher's site does not permit frames. (Additionally, UC-eLinks will not display in a frame for some services such as Citation Linker, campus A-Z lists, and others.)
4. To see if your library owns a print copy of an item, look at the "Find a Copy" section on the UC-eLinks menu and click the "Check the…" link.  (Your campus may have a link to your campus library catalog.) A new tab will appear with the title of the book or journal in which the article appears; see Figure 3. In some cases, there will be an online version of the journal or book available. To determine if this is the case (using UC Davis Libraries Melvyl as an example), first click on the hyperlinked title to display the online and print holdings at your campus. If links to online holdings display, click on a holdings link. This will take you to a vendor web site, such as Sage Publications, where you will need to input your article title in the platform's Search feature to locate the item.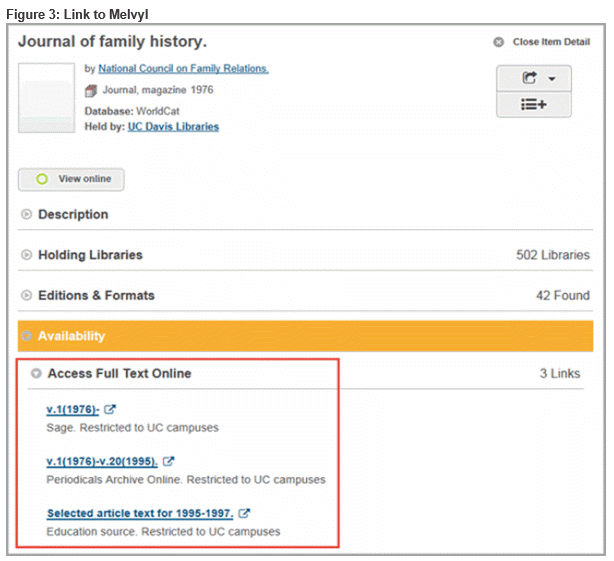 If links to the online content do not appear for the year of publication you want, check the campus holdings section to see if your campus holds a print copy. See Figure 4 below.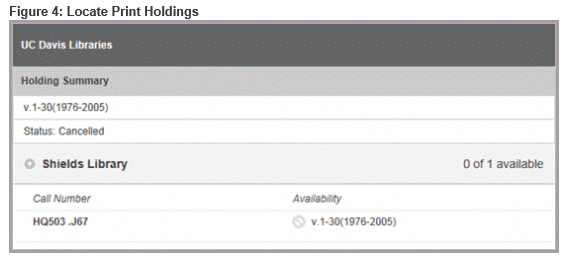 5. If neither an online or print version is available at your campus, you can borrow the item via the Request (Interlibrary Loan) service. To borrow this item from another institution return to the UC-eLinks menu and click the Request this from the library link under "Request It"; see Figure 5 below.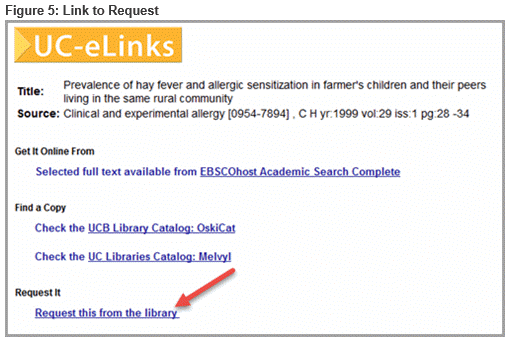 Next…
a. Enter your preferred delivery location, library card/account number, document delivery service (if applicable), and other relevant information into the online Request form. See Figure 6 below.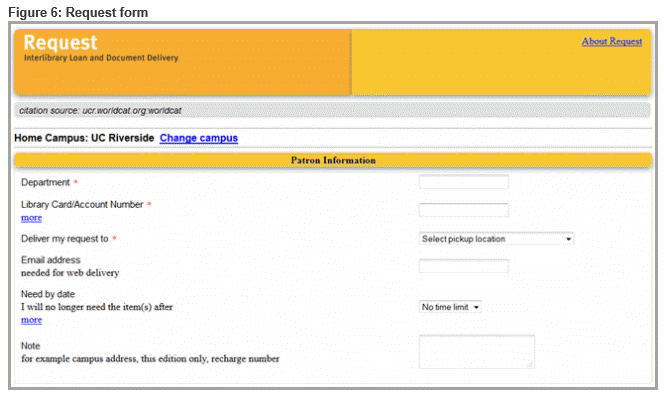 b. If the citation information supplied by UC-eLinks is insufficient, you will get a form prompting you to fill in additional information. The form will already have filled in some of the information that has been automatically received, and you will be asked to provide additional information that you can locate in the citation for the item.
c. Read and accept the brief copyright statement.
d. Review messages about items available in other formats and locations.
e. Review any Request confirmation messages you may receive during the Request process that inform you about local availability of the item(s) or your authorization to use the service.
6. Click on Ask a Librarian (Figure 7 below) under the "Get Help" section in the full UC-eLinks menu to contact a campus librarian with reference or research questions in person, via telephone, email or sometimes via online chat.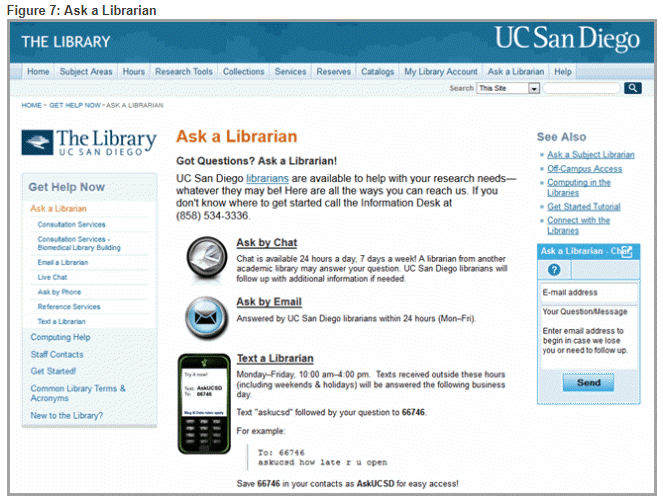 7. Click on Report a problem with UC-eLinks to report problems related to connecting to resources or citation records; see Figure 8.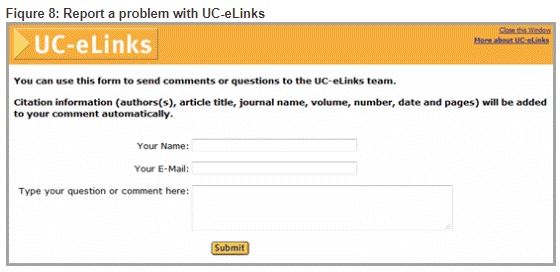 Where to go for more information
If you have problems accessing or using UC-eLinks, use the Report a problem with UC-eLinks online form to report the problem or to ask questions about how UC-eLinks works.