Use the Report a Problem form
You must be in UC-eLinks to use the Report a Problem form.
From the UC-eLinks window, click on Report a problem with UC-eLinks(The link is in the top of the framed window or under "Get Help"in the full window. See images 2 & 3 below.)
Briefly describe your problem and hit submit.
The benefit of using the form is it automatically sends the CDL Helpline information for troubleshooting your problem — about your system, where you encountered the problem, and the citation information.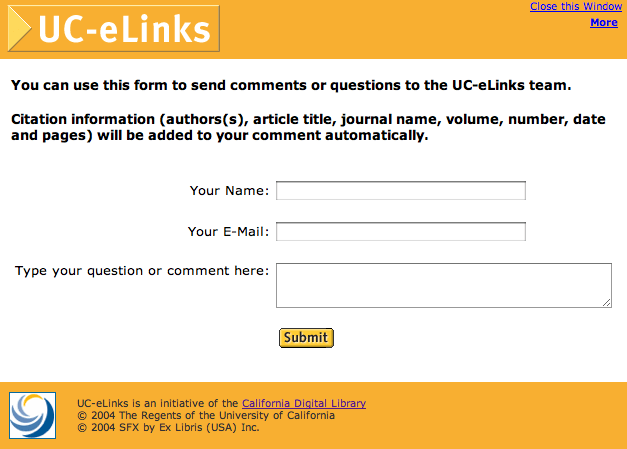 If UC-eLinks is not working, contact a person
If you have problems accessing or using UC-eLinks and cannot use the Report a Problem form, contact a librarian at your campus or contact the staff of the California Digital Library.
For immediate assistance, call the CDL Helpline: 510-987-0555. Callers with TDD equipment, please call 1-800-735-2929 in California for the telephone relay operator.
Where to find the UC-eLinks Report a Problem form links
In a framed UC-eLinks window, it's at the top.

In a full UC-eLinks window, it's at the bottom under Get Help.