bX Hot Articles for University of California
Sample bX Hot Articles tile (it's live, try it!)
This is a sample tile with "All Subjects" as the default subject. You can specify a different subject (from the topics listed) as your tile's default.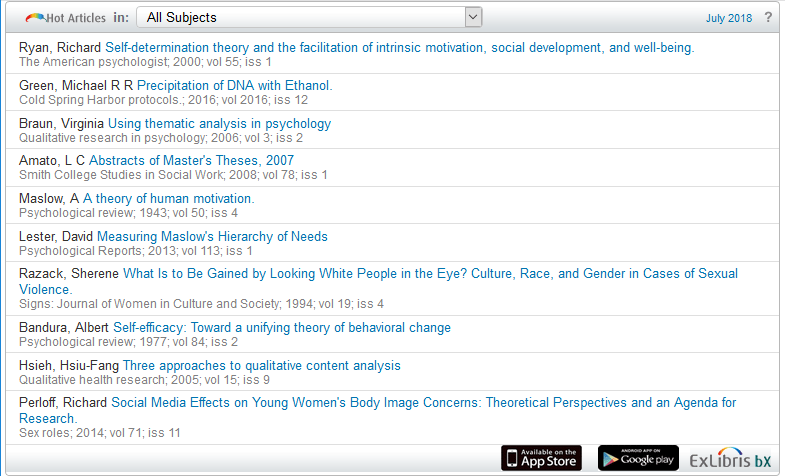 How to get a bX Hot Articles tile for your web page: 3 easy steps
Go to ExLibris website bX Hot Articles page.
Register to get bX Hot Articles. (See screenshot below.) You'll go to a click-thru agreement, then to the registration form below.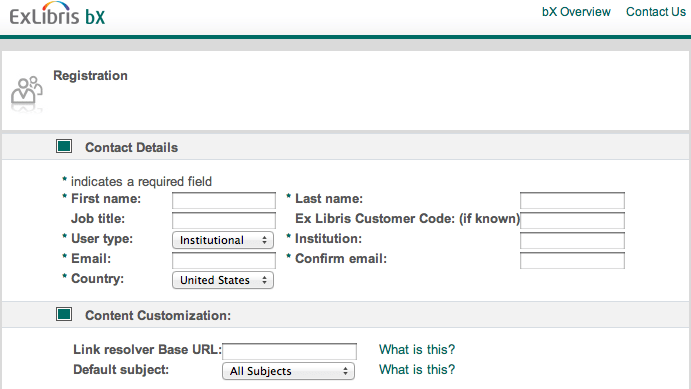 You will need the Link resolver Base URL for your institution. For UC, it's http://ucelinks.cdlib.org:8888/sfx_local.
Exlibris will immediately email your authentication token and a link to get the code to place on your web page.
FAQs
bX Hot Articles is a new free service that shows you immediately, based on real usage data, what publications are hot in your subject. It works with UC-eLinks.
How does Hot Articles work?
Hot Articles is a mini window (a "tile") that goes on a web page and shows popular articles in broad subject areas (as defined by ExLibris.) In each subject area, bX Hot Articles displays a list of the ten articles that researchers selected the most in recent weeks. If you select All Subjects, you see the top ten articles overall. The service is based on selections made by millions of researchers from thousands of academic institutions around the world and is updated once a month.
Who would use it?
Faculty and students.
How do they use it?
Users click on an article link in the Hot Articles tile. The link opens a UC-eLinks window or links directly to the article.
Where does it appear?
The Hot Articles tile can be placed on any web page. It's appropriate anywhere users are looking for articles:
library pages
LibGuides or other subject guides
course pages
blogs
publisher websites
Who manages it?
A campus librarian or faculty member can put it on a web page or write their own API using one of the other formats (XML, RSS, ATOM, JSON). Publishers are supporting the tile. Elsevier ScienceDirect, who was a development partner, can configure the Hot Articles tile to show up on their website. Potentially other publishers will support it. CDL, Resource Liaisons, and instructional librarians would need to work with publishers to configure it.
What info do you need to configure it?
All you need is the UC-eLinks base link resolver URL. For University of California, it's http://ucelinks.cdlib.org:8888/sfx_local
Is there a mobile app?
Yes. In addition to online formats—HTML (tile), XML, JSON, RSS, and Atom—the Hot Articles service is available as a mobile application for Android devices and for iPhone. After downloading the app, pick your institution (e.g., University of California, Santa Cruz), and then see the list of subjects.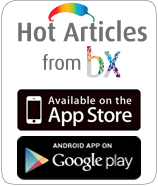 How is it different from bX Recommender?
bX Hot Articles uses the same database as bX Recommender — it's power by bX.
| bX Recommender | bX Hot Articles |
| --- | --- |
| Recommender is article specific (more articles like yours) — what other users liked. | Hot Articles is subject specific (e.g., Business, Engineering, Chemistry) — what's hot in your subject. |
| Recommender is a licensed service with an annual cost. | Hot Articles is free. |
| The Recommender tile integrates into the SFX (UC-eLinks) window. | The Hot Articles tile can be placed on any web page. |
| The UC Libraries are not licensing Recommender at this time. | Hot Articles is freely available to any institution or individual. |
Background
bX Hot Articles was released by ExLibris on March 28, 2012. Christine Stohn is the product manager at ExLibris.
Get more technical information (including available formats.)
For questions or any comments on the Hot Articles service contact the ExLibris bX team.
For internal discussion with the CDL team and UC-eLinks liaisons and administrators contact the UC-eLinks Admins list.