Melvyl WorldCat Discovery FAQ
Overview
1. Why are there 11 different versions of Melvyl?
Melvyl represents the union catalog of the University of California Libraries, so users can go there to see if the UC libraries own an item without preferencing any UC library or needing to know the names of UC campuses. In the central version, all campuses and materials in the Northern and Southern Regional Library Facilities (NRLF and SRLF) are represented equally.
One of the most important reasons we need Melvyl is to support resource sharing among the UC libraries. Interlibrary Loan (Request) has to have a UC Libraries database in order to make consortial borrowing work.
Having campus versions of Melvyl allows a campus user to limit to the holdings of that campus as well as to see items held by the University of California Libraries or Libraries Worldwide. In addition, local notes added by the campus and uploaded to OCLC are visible only in that campus version of Melvyl.
2. What can I find in Melvyl?
Resources that are fully cataloged in the UC campus (main) catalogs, including books, journals, media, government publications, maps, electronic databases, and more.
Records for the Southern & Northern Regional Library Facilities (SRLF & NRLF), the Mass Digitization Projects, from eScholarship, as well as digital content from the Online Archive of California (OAC).
Resources that are available in libraries worldwide.
Selected full-text articles are available via Melvyl. Additionally, articles indexed in multiple vendor databases (known cumulatively as the Central Index; see Advanced Search for a list of databases) are available in search results.
The service also contains feature cover art, tables of contents, author notes, excerpts and related links with enriched record data.
An Ask a Librarian (24/7 chat) feature is also built into the interface.
3. What can't I find in Melvyl?
There may be some brief records that appear only in a campus catalog, and have not yet been added to Melvyl. If you cannot find something you think should be in Melvyl, check your campus local catalog, or for the storage facilities, check http://oskicat.berkeley.edu for NRLF or https://catalog.library.ucla.edu for SRLF.
4. Can I use Melvyl to find items on reserve for my class?
No. In order to find books or other material placed on Reserves for a class you need to search your campus catalog.
5. If I'd like to make a comment or point out an error, what do I need to do?
At the bottom of any of the Melvyl screens, click on the Send Feedback button and fill in your comments/corrections. All comments that are submitted in all versions of Melvyl come to the UC California Digital Library for response.
6. Why does Melvyl default to Libraries Worldwide instead of to the University of California Libraries?
Using Melvyl, supported by WorldCat Discovery (WCD), moves discovery beyond the local level to the network level. While limiting the scope of discovery to local catalogs made sense in the analog library in order to meet timely delivery expectations, this technique makes less sense in the digital library environment, where the delivery of information to users depends less on a user's location than on her credentials.
Using WorldCat Discovery gives us the opportunity to take discovery out of the single library, UC union, or regional consortium "silo" environments and place it at the international network level, the level known to be where most information searches now begin, for example. This allows our users to expand discovery beyond the resources available within our own consortium (which are considerable, yet limited on a world-scale) while at the same time giving them the ability to seamlessly scope down to the local level, be it at the single library level, the UC-wide level, or the regional level, when it makes sense.
Searching
1. Where can I find help on navigating Melvyl?
Here are two useful documents:
2. Why does one record seem to "hide" a lot of records behind it?
This is called the FRBRization (FRBR is pronounced 'ferber') of records. FRBR stands for Functional Requirements for Bibliographic Records. The purpose of using FRBR in a database that contains hundreds of millions of records is to simplify the display of titles in multiple formats so that information seekers don't wade through different records for versions of a popular title, such as the movie, the audiobook or translations. Varied expressions of a source work are collapsed in a single record display.
Although on by default, you can turn off this feature by unchecking the Group related editions box at the top, left of the search results screen.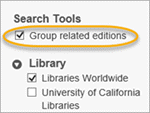 To view all versions of an item, click the Explore Editions & Formats link on the brief or the detailed record display. You will be able to review additional options at that point.
3. Where is the call number for the resource I want?
On the brief display, click the Check Availability link to display the call number. See below.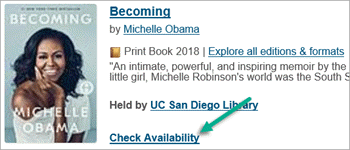 You can also find this information in the full record display.
4. How do I do a "Title begins with…" search in the Basic Search box?
In the Basic Search box, enter ti=[title] and click the Search button. More information on searching indexes is available in Searching WorldCat indexes: Quick reference.
5. How do I refine a search?
You can use the Search Tools on the left side of the screen to refine your search results, once you've conducted a search. You can also decide what limits you want to choose or deselect.
Note: As of June 13, 2019, due to a known bug, multiple Format facets cannot be selected in WorldCat Discovery. OCLC's Product team is aware of this issue and is working to resolve it. The California Digital Library (CDL) has been added to OCLC's internal ticket and we will be notified once the issue is resolved. Unfortunately, OCLC does not have an ETA for resolution at this time.
6. How do I know what's in my campus library?
On the search results screen, select your campus library, the University of California Libraries, or Libraries Worldwide under the Library limiter.
7. The 'Access online' button goes to the journal's home page, not the article. What do I need to do to go directly to the article's full text?
The Access online button, either on the multiple item display or on the detailed record, resolves to the home page of the journal the article is published in. To go directly to the article, open the detailed record and click the UC-eLinks link under the Check Availability section; see below. Then click any of the links to the article under the Get It Online From section of the UC-eLinks menu.

8. Sometimes I see a really old edition of a work coming up when I know there's a new edition. Why does that happen?
Works are sorted by "Best Match" (which blends Title, Author, Date, and Worldwide Holdings with an emphasis placed on Title), so that when many libraries own a copy of a work, it appears first. As a result, older editions held by many libraries may appear in a results list rather than a newer edition with fewer holdings. You can see more recent editions by sorting your search results by "Recency" or "Date (Newest First)" or by opening the Explore Editions and Formats tab on the detailed record.
9. Why do I get an "authentication needed" message?
Melvyl searches selected licensed vendor databases which the University of California Libraries license on behalf of UC students, faculty and staff. In order to search these databases, you will need either to be on campus or use your campus's off-campus access mechanism. You can still search freely available databases, including University of California held books and journals, by clicking the "ENTER AS GUEST…" link.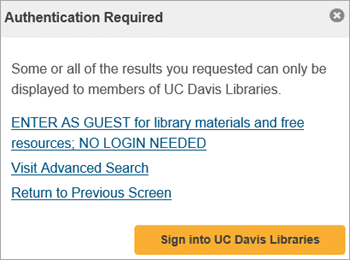 You may encounter this message on campus or through an off-campus access mechanism if you are using a Melvyl version different from your campus version. For example, if you are at the UC Davis campus and use the UCLA Melvyl version you will encounter this message. For best results, use your campus's Melvyl instance.
10. Why do the Center for Research Libraries records display in Melvyl under UC Libraries?
Records for items held at the Center for Research Libraries (CRL), located in Chicago, display under Level 2 with the University of California Libraries holdings in Melvyl.  There are several reasons for this:
Nine UC campus libraries are members of CRL. UC has a substantial investment in CRL and in making CRL's rare, unique and little known items highly visible and available to our researchers.
The UC libraries deposit collections to be stored and preserved at CRL for the use of researchers worldwide. We want these collections to be visible to our own researchers, too.
At the time of the transition from the former version of Melvyl to WorldCat Local, a policy decision was made to include CRL's records as part of UC because of our long and active relationship with CRL. The decision was endorsed by the public services and collection development committees.
CRL records have displayed prominently in Melvyl as long as UC libraries have been members, and through pre-WorldCat Local versions of Melvyl. CRL records were added as a part of UC's holdings in WorldCat Local in April of 2011. Trends in CRL usage by UC library users after that date show a marked increase in usage for requests, filled requests, and digital downloads.
So when you see Center for Research Libraries displaying under University of California Libraries, it is intentional, for your convenience, and not an error.
WorldCat Discovery Basics
1. What is a WorldCat Discovery user account and why would I want one?
A WorldCat Discovery (WCD) user account allows you to Save Searches and Save Items in Personal Lists, which can be Private or Shared. Additionally, some features like emailing or exporting multiple records can only be done from a saved list (WorldCat Discovery account required).
You can find information on creating a WCD user account and more on Personal Lists here.
2. How do I email records?
You can email individual items by clicking the Email button at the bottom of the item in the search results display (below). The same Cite/Link/Email/Save buttons display at the top of the Item Details (full record) screen.

3. I'd like to scroll through the full records.
You can do this by clicking an item's title as displayed in the multiple item display on the left side of the screen. The item you are currently viewing displays in the main frame on the right side of the screen. As you click another title on the left, the item replaces the item previously in the main frame.
4. How do I export citations into EndNote or RefWorks?
You can find information on exporting records from Melvyl here: Exporting_Records_from_Melvyl_WCD.
5. In the Advanced search, is there a way to deselect all databases?
To clear all databases (on by default), scroll to the bottom of the screen & click the Select All in Group button. Then select the databases you want to search and click the Save Changes button at the top of the list of databases.
6. How do I suggest features currently missing from the interface?
You can locate all the WorldCat Discovery suggested enhancements in OCLC's WorldCat Discovery Community Center.  Once here, click the Create Account tab and follow the instructions.
Once in the WCD Community Center, click the Enhancements tab in the top menu bar.  On the Enhancements webpage, you can Search suggested enhancements to see if your idea has already been suggested and, if so, what the current status of the potential enhancement is.  If your idea has not already been suggested, you can click the Share your idea for a future enhancement link to submit your suggestion.
HathiTrust
1. I know there are HathiTrust items in Melvyl, but where are they?
Beginning in February 2019, records for items (both with full text and without) in the HathiTrust Digital Library will appear in Melvyl WorldCat Discovery instances under "Libraries Worldwide" which is consistent with the way all other libraries display links to HathiTrust items.

For HathiTrust items with Full Text available, clicking the Check Availability link on the brief results screen changes it to the Access online button.  Clicking this resolves to the full text of the item in the HathiTrust Digital Library.
For items without the Full Text available in the HathiTrust Digital Library, the usual options (checking the campus library catalog to see if the print version of the item is available or requesting the item via Interlibrary Loan [ILL] services) are available.
Other Services / Topics
1. Can I use Request (Interlibrary Loan/Document Delivery) in Melvyl?
Yes, you can access the Request service through the orange Request button or by clicking the UC-eLinks button and then clicking the Request option on the UC-eLinks menu. "Request" allows you to either submit a document delivery request (if available on your campus) or to request the item from another institution (Interlibrary Loan). You don't need to worry where it is, Request automatically locates potential lenders. You can find more information in the Request Interlibrary Loan Service Frequently Asked Questions (FAQ).
  a. Who can use Request?
University of California faculty, staff, and students may use Request. UC alumni and users from other institutions wishing to obtain UC materials via Interlibrary Loan must initiate Interlibrary Loan requests from their local public libraries, their corporate libraries, or for those currently enrolled/employed at another academic institution, their current campus libraries.
   b. Can I save my library card information between sessions? 
No. However, you can use your web browser's Autofill feature to automatically fill in your Library Card/Account Number & email address. The Request service auto-detects your IP address and displays the appropriate Home campus form.
Especially for Librarians
How can I give feedback about…
1. How can I give feedback about…
a. ..interface issues, training issues, functionality?
All comments that are submitted via the Send Feedback link at the bottom, right of any screen in all versions of Melvyl come to the California Digital Library (CDL) for response. Requests for bug fixes, further information or explanation are submitted separately to OCLC. OCLC makes many of its enhancements based on usability testing it conducts.
b. …technical, configuration, and customization issues?
For technical questions, configuration and customization requests, use MelvylOps [at] cdlib [dot] org. Your question will go into our ticketing system and are viewed by the whole technical team.
2. Does WorldCat Discovery provide a MARC display?
Yes, library staff members can get a WorldCat Discovery Staff account that provides access to a MARC record display. These accounts are for library staff only and are different from the WorldCat Discovery User accounts.
To request a staff account, contact the Melvyl Operations Liaison responsible for staff accounts for your campus. You can locate the contact information for your representative in the matrix at the bottom of the Melvyl Operations Liaisons webpage.
3. Why do search results in Central Index databases differ from the results in the "native" versions?
As might be expected in a metasearch system of this kind, the databases that vendors provide to OCLC for loading into the Melvyl Central Index are not identical to those available through their "native" versions. There may be differences in dates covered, in journal titles covered, in what fields are included, and also in how fields are mapped for searching.
For the most part, this feature is geared towards undergraduate researchers who are looking for a selection of relevant peer-reviewed articles, but who may not need to do deep and comprehensive research. In many cases the search capabilities of Central Index databases are much less refined than in the native interfaces.
Note — In many cases, if you select one database in Advanced Search you can choose from a more complete list of searchable fields (similar to the native interface) than the limited set of searchable fields (Author, Title, Keyword, Subject) available in multi-database searches. Bottom line: Advanced users will still need to use individual databases for the most complete and precise search results.
4. On an ebook record, why can't I see the Availability links for the other campuses?
Per the OCLC release notes from August 2018 (copied below), those links will not display for other campuses in a group.  The reason provided is that most institutions will not want their students seeing those links if their campus does not license the resource.
From the WorldCat Discovery August 2018 release notes –
eLinks from Level 2 availability groups no longer erroneously display.  Since licensed content from Level 2 group scopes do not allow users from other institutions to access their content, institutions with a Level 2 availability group will no longer see eLinks display from group institutions.