How to Use the CDL Helpline Website
[The CDL Helpline web site is powered by Numara FootPrints® from BMC Software.]
Logging into the CDL Helpline website
The first time you visit the CDL Helpline website, click on the New Users: Sign Up Here link and fill in the New User form.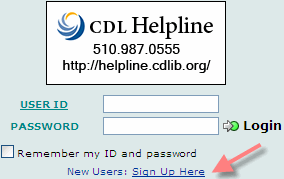 Once you've signed up, your email address becomes your User ID and your Password is whatever you set it to be during the sign up process. Then click the Login button.
Once logged in, you can:
Submit a Request, i.e., report a problem
View Requests, your own and all Requests submitted by UC staff
Search for a specific resource or vendor to see if problems have been reported
Sign on to Global Issues (if any are currently available) to receive the latest updates via email on a previously reported problem
Submitting a Request
The "New Request" form is very straightforward; mandatory fields include Title, Personal Information (which is filled in automatically when you log in), Type of Problem (pulldown menu), and Description of the problem. It's helpful if you can enter as much of the optional information (ISSN/ISBN, Vendor Name, Database, or Access Point) as possible. Additionally, you can attach a file, such as a screen shot, and cc others via the Attachments and Additional Email Notifications features (optional).
Currently, the Type of Problem pulldown menu includes the following options:
Vendor Issues*,  Shared Cataloging (SCP), and  Misc/Other.
* If you select Vendor Issues as the problem type, a dialog box displays an additional pulldown menu that allows you to further define the type of vendor problem you are reporting.
Subcategories include:
Access problems: Use to report access problems to any/all parts of the resource; this is the default selection.
See required vendor-specific information when reporting access problems with Annual Reviews and/or IEEE, Nature, and Springer.
Content problems: Use to report missing content, broken links or PDFs, etc.
Vendor site problems: Use to report when you cannot access the vendor's site at all.
Misc/other: Use to report any other vendor problems.
Note: If you are reporting an access problem with a vendor or platform, please include specific title(s) that aren't accessible and the IP address of one or more workstations experiencing the access problem in your report.
Additionally, some vendors request specific screen shots be included when the problem is reported. For example,
Annual Reviews; IEEE. In order to confirm or deny that problems accessing Annual Reviews and/or IEEE online content is not because of IPv6 activation at the affected campus, please ask the user to access the diagnostic links below and copy and paste the results into a document – this will provide information about the IP address used. Please create a new Helpline ticket reporting the access problem on your campus and attach the supporting diagnostic documentation, noting the campus location or network of your user.

http://ieeexplore.ieee.org/servlet/SnoopServlet
http://whatismyv6.com/
http://ipv6-test.com/

Nature requires a screen shot of the results from their "debug" URL (http://www.nature.com/debug.html). They ask that you send a screen shot but depending on your campus the resulting information can be quite lengthy. If so, copy and paste the results into a Word document using multiple columns to reduce the overall number of pages generated.
Springer requires a screen shot showing the journal or article title with the access blocked. They also require a screen shot of the Springer Identity Details (http://link.springer.com/identity-details; copy and paste details shown in this link). The Identity Details include the campus, account number, consortia account number, and workstation IP address. See below.
Receiving updates on your reported problem
You'll receive email when any action is taken on your ticket or whenever anyone, such as the vendor's customer service representative or a CDL staff member, responds to your ticket. The email will be from the CDL Helpline (helpline@cdlib.org) and the subject line will include ticket-identifier information after the subject text you entered:
From: CDL Helpline <helpline@cdlib.org>
To: Enduser.Test-Account@ucop.edu
Reply-to:helpline@cdlib.org
Date: Fri, 18 Apr 2016 13:05 -0700
Subject: UCSF cannot access OUP ejournal titles ENTRY=5 PROJ=1
Very important information here: Reply directly to the CDL Helpline email address and do not alter the subject line. (You can remove "Re:" or "Fwd:" from the subject line if these bother you; removing these will not affect the functioning of the ticket-identifier information.)
Finally, always remember to call the CDL Helpline at (510) 987-0555 to report urgent/critical outages, such as when a major service (UC-eLinks, etc.) or licensed resource (Wiley Online Library) is unavailable.