Ruchi Aggarwal Staff Profile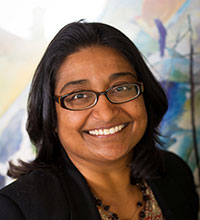 Program / Service
Business Services, California Digital Library
Job Title
Finance Manager
Responsibilities
Ruchi's primary responsibility is to lead and manage the finance team & provide fiduciary oversight for the finance functions at CDL. She leads the annual budgeting and quarterly forecasting processes, and serves as the key point of contact for fiscal matters to internal CDL units, process partners within UCOP & UC campuses.
Education
B.S. Business Administration & Accounting, University of Kansas
B.A. Linguistics, University of Washington
Background
Ruchi has spent the majority of her career in higher education. She worked at the University of Washington for 16 years where she held a variety of accounting & finance roles. Starting as a grant accountant, she has also managed academic business office operations at the UW College of Engineering, and served as Assistant Treasurer on the Asset Liability Management team for the University's Treasury Office. She has experience in budgeting & accounting, financial planning & analysis, grants management, process improvement, and capital & debt management. Prior to coming to CDL, she was Finance Director for Facilities Services at Seattle University. She was a licensed CPA in Washington State.  Ruchi's first job was as a library page in her local public library.
Professional Interests
Mentoring & Coaching
Process Improvement
Financial Analysis
LinkedIn Profile
https://www.linkedin.com/in/ruchiaggarwal1/