Holly Eggleston Staff Profile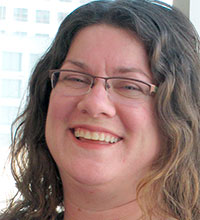 Program / Service
Collection Development & Management
Job Title
Electronic Resource Analyst
Responsibilities
Holly's primary responsibility is to lead development of technical standards and policy pertaining to licensed resources, and ensure that the functionality of these resources support the educational and research needs of UC students and faculty. In support of this objective, she organizes and manages the CDL Resource Liaisons program, comprised of 100+ subject area expert librarians across all ten campuses who serve as key links between the UC system and CDL licensed resource vendors, as well as between CDL and the campuses. She also manages the technical integration of licensed electronic resources into CDL systems and services, including defining and communicating technical requirements, facilitating vendor relationships, and managing ongoing lifecycle management activities from resource evaluation and transition between platforms through resource cancellation.
Education
M.L.I.S., University of Washington
Bachelor of Science, Computer Science, The Evergreen State College
Background
Prior to becoming a librarian, Holly worked for eight years at Microsoft in product support and quality assurance testing, including work as the product support lead for Microsoft Office, facilitating communication between the customer support sites and product development group. After two years as a systems development, staff training, and project management consultant, Holly began her library career at The University of Montana, initially as the business and economics librarian, and later as the head of technical services. Holly comes to us most recently from UC San Diego where she was the Assistant Head of Acquisitions, with responsibilities in all areas of electronic resource management, including license negotiation, troubleshooting escalated issues, and workflow implementation and documentation.
Professional Interests
Online community and collaboration
Database and tool development
Workflow design and implementation user advocacy
Committees / Affiliations
American Library Association
Special Libraries Association
Association for Computing Machinery
North American Serials Interest Group
ORCID ID
http://orcid.org/0000-0002-5976-0237
LinkedIn Profile
http://www.linkedin.com/in/heggleston