Donal O'Sullivan Staff Profile
Contact Information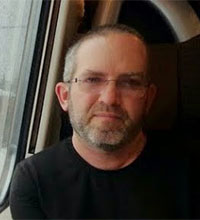 Program / Service
Collection Development & Management, Shared Cataloging Program
Job Title
E-package & ETL Specialist
Responsibilities
Donal is responsible for analyzing systems and packages to determine cataloging feasibility and develop efficient cataloging practices and processes to streamline data manipulation. He maintains CDL licensed and open access electronic monographs by employing batch processing techniques across a variety of applications to achieve innovation and enhanced productivity.
Background
Prior to joining the Shared Cataloging Program in 2006 Donal worked with Serials and Government Documents Acquisitions at UC San Diego. His initial forays into using and scripting macros began during that time but progressed rapidly after joining the Shared Cataloging Program. Donal's work with macros was recognized by the PCC and eventually merited him a mention in the book "E-books in Academic Libraries" by Ksenija Minčić-Obradović, 2011. One of Donal's many joys working for the Shared Cataloging Program involves the national and international consultation and collaboration opportunities he has with other institutions and catalogers through the PCC as a result of his work with macros.
Professional Interests
Batch processing in technical services, ETL (Extract, Transform, and Load).
Publications
Donal O'Sullivan, Becky Culbertson, and Adolfo Tarango. "Weapons of Mass Distribution: Cataloging with Deadly Efficiency! – Poster Sessions (NASIG 2013)", The Serials Librarian, vol. 64 p. 307-309.
Becky Culbertson, Donal O'Sullivan, Annelise Sklar, "Bountiful Harvest: Batch Searching and Distribution of State Document MARC Records", Documents to the People, vol. 36 no.4