Alana Miller Staff Profile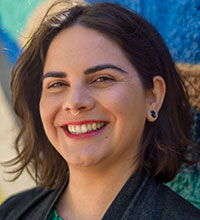 Program / Service
User Experience Design Service
Job Title
UX Content Strategist
Responsibilities
Supporting the UX team and CDL programs in planning, implementing and managing online content.
Education
M.S., Library and Information Science, Pratt Institute
B.A., Film and Digital Media Studies, Mills College
Background
Alana Miller is a content strategist interested in the intersections between information, design, and discovery. Originally an aspiring film archivist, she completed her undergraduate degree in Film Studies at Mills College in Oakland, before heading east to Pratt Institute in Brooklyn where she earned her MLIS with an emphasis in museum libraries and archives. There, she developed a deep love and appreciation for metadata and taxonomies, and how they can be used to create better user experiences both in and outside of libraries. While in New York, Alana contributed to a number of archival projects at various museums, including the Museum of Modern Art, the Brooklyn Museum, the Brooklyn Historical Society, and the Museum of the Moving Image. Previous to CDL, Alana worked as a content strategist at a digital agency in Brooklyn where she helped research, define, and implement content solutions for clients ranging from e-commerce to entertainment, including Apple, Comcast, and The Simpsons World.
Professional Interests
Mixed Methods User Research, Taxonomies, Content Modeling, Data Visualization & Literacy, Museum Libraries & Archives
LinkedIn Profile
https://www.linkedin.com/in/alanammiller